TfL contractor and supplier requirements
In 2012 there were 14 cyclist fatalities in London, with 5 involving Heavy Goods Vehicles (HGVs), including skip or tipper trucks, which highlights the urgent need to reduce the dangers posed by HGVs to cyclists in London.
TfL is committed to improving the safety of all Vulnerable Road Users on London`s roads, and as such have implemented an organisation wide initiative to ensure that all businesses working for or on behalf of TfL take measures to improve the safety of their vehicles. It is now mandatory for all new and existing contracts, for contractors and their sub-contractors who deliver to a TfL premises or site to adopt these Work Related Road Risk cycle safety requirements.
Failure to meet these requirements could result in vehicles being turned away from site and could be considered a breach of contract, resulting in the contract being terminated.
This section of the FORS website provides information on these new contractual requirements, vehicle safety equipment guidance and FAQs surrounding cycle safety and freight in London.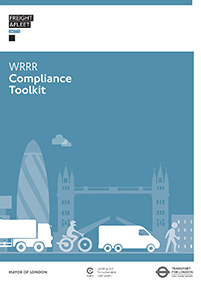 ---