What is FORS
The Fleet Operator Recognition Scheme (FORS) is an accreditation scheme that aims to improve fleet activity in London and throughout the UK and beyond.
---
Who's it for?
FORS is subsidised, voluntary and open to any company operating a fleet including vans, lorries, mini-buses and coaches.
---
"The FORS process of accreditation and continuous improvements makes sound business sense, and gives customers peace of mind that the organisation they contract with take safety and compliance seriously. The added benefit of accident reduction and public recognition of high standards means the potential to stand out from others when competing for new business."
Theo de Pencier, Chief Executive of the Freight Transport Association (FTA)
Latest News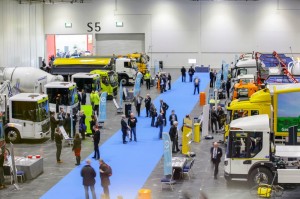 New, safer designs for a range of construction vehicles were on show at a major event as part of the freight industry's efforts to improve road safety and better protect cyclists and pedestrians.
On 26 February more than a dozen HGVs werere on display at the Construction Logistics and Cycle Safety (CLOCS) event at ExCel, which is being supported by Transport for London (TfL). The event saw manufacturers such as Mercedes-Benz, DAF Trucks, Scania, Volvo and MAN showcasing new vehicles that reduce deadly blind-spots.
In addition, 16 suppliers exhibiting at the event demonstrated a range of products and services aimed at helping operators meet both the FORS and CLOCS requirements which are aligned at FORS silver level.
If your company is interested in progressing to silver or gold FORS accreditation, you will need to submit evidence via the
FORS online evidencing system
against each of the
FORS standard
requirements (silver requirements S1 to S7 pg 41 to 43 and gold requirements G1 to G6 pg 44 to 46).
Please note that you must have a valid bronze accreditation to apply for silver.  If you would like to check your current bronze expiry date, please check on the evidencing system.