Stone & Ceramic Ltd is a specialist tiling and stonemasonry sub-contractor working within the construction industry. Established in 2002, we have been growing steadily over the last 14 years in terms of staff numbers and turnover. The last three years have been a time of particular heavy growth and improvement throughout all departments within the company.
Paul Ahearne, Fleet Manager, explains how FORS has benefited Stone & Ceramic Ltd and helped the company continually improve its delivery operations.
We first came across FORS when working for MACE at their Merchant Square project in 2013. All deliveries to the site were to be made by Bronze registered vehicles.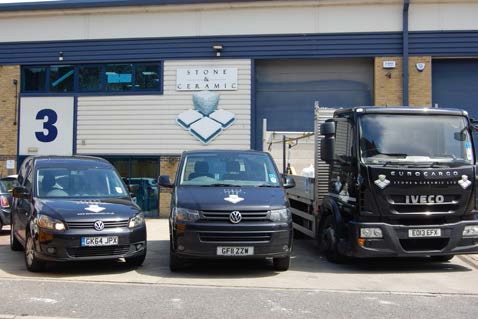 We decided to achieve the accreditation partly to commit to this project and also to improve our delivery operations throughout the business. We also realised that  where one Main Contractor led, others usually followed so we would be viewed favourably during the estimating stage and hopefully give an extra edge over our competition.
During the first audit, we realised that there were some improvements that needed to be made in our documentation and induction processes which resulted in a Driver Handbook being compiled. This is now given to all Company drivers on employment commencement and details the driving standards we expect from our drivers.  After a follow-up audit, we successfully gained FORS Bronze accreditation.
Following the successful Bronze audit, I began attending the FORS practitioner courses which were extremely useful and I successfully attained the FORS Practitioner certificate in September 2014.
Our HGV driver has attended the Safe Urban Driving & Staying Legal CPC courses made available through FORS and all our drivers are also completing the e-learning courses provided by FOS online.
In early 2015, we realised we were already meeting the majority of the FORS Silver standard. Seeing the benefits of meeting this criteria fully to both the company and driver, a 360⁰ camera with recording, a turn left warning and sensor system was installed on our HGV. We also signed up for an online
driver licence verification system which automatically checks our driver's licence on a regular basis depending on their risk rating.  Once this was complete and working, we applied to become FORS Silver accredited and we gained this accreditation in July 2015. We also became a CLOCS Champion in September 2015 to further our commitment to the health & safety of our fleet.
'The FORS Practitioner course allowed me to meet others and share our knowledge & experience of fleet management'
We believe the FORS accreditation and training completed via FORS has helped us enormously to improve our knowledge and awareness of all aspects of driving in London. We have implemented various documents including the Driver Handbook and driving licence checking procedures to ensure the safety of our drivers, operatives and the general public.
'Our Mpg has improved by 35% since 2013/14′
We have made vast improvements in terms of fuel economy and on current figures our MPG has improved 35% from when we first starting monitoring in 2013-14.
| | | |
| --- | --- | --- |
| | MPG | % improvement on previous year |
| Aug 2013 – Jul 2014 | 23.67 | n/a |
| Aug 2014 – Jul 2015 | 29.40 | 24.2% |
| Aug 2015 – May 2016 | 31.96 | 8.7% |
Annual improvement in MPG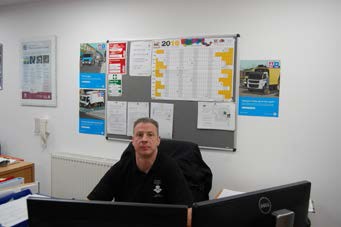 We hope attaining Gold accreditation will prove our commitment to driver safety and actively encourage other small fleets like ours to go for Gold! Going forward we want to promote the standard to our supply chain and support them to attain accreditation.