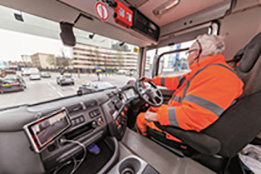 FORS would like to remind members of the importance of ensuring their drivers' company details on their FORS training records are accurate and up to date. This is particularly important if FORS accreditation is in your contractual requirements, as failure to do so may result in drivers being turned away from sites because training records will not match.
When drivers undertake training through FORS, their details are logged so that the training conducted by each driver can be accessed.
For the eLearning modules, drivers can log into their eLearning account and update their individual profile. Transport managers should remind any newly employed drivers joining their company, who have completed FORS training with their previous employer, to update their profiles.
For drivers attending classroom training, please ensure that the FORS approved training provider records your company name accurately during registration. If your circumstances change and you wish to retrospectively amend the company name on your classroom records, please contact the FORS helpline on 08448 09 09 44 or email [email protected].