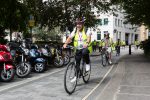 Fully funded places are still available for FORS Professional Safe Urban Driving (SUD) and Van Smart (VS). The courses are allocated on a first come, first served basis – so don't delay booking your place.
While SUD is aimed at commercial drivers operating HGVs, VS specifically targets van drivers. Drivers of both HGVs and vans will need to attend SUD rather than VS, not both.
Even though SUD is aimed at HGV drivers, van-only drivers are able to meet the Silver requirement by attending a SUD course if there are no VS courses in their region.
As an added benefit, each seven-hour course is Driver CPC accredited – this is helpful for drivers ahead of the CPC deadline on 9 September.
To book places for your drivers on Van Smart, click here.
To book places for your drivers on SUD, click here.