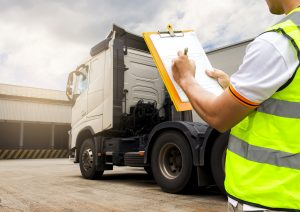 With more FORS members now seeking re-accreditation after a year of uncertainty caused by the pandemic, FORS is sharing tips to help operators pass the Bronze audit – the crucial first step in the progressive scheme.
The annual FORS Bronze audit is undertaken by new FORS members seeking first time accreditation, and by existing members who wish to maintain their accreditation. The process sees members complete a thorough audit to evidence how their business practices meet the requirements set out in the FORS Standard.
FORS paused Bronze auditing in March, when the first national lockdown hit. While face-to-face on-site audits resumed in July, FORS took this process fully online in November to help ensure member and auditor safety in light of subsequent regional lockdowns.
Now FORS members are audited using screen sharing virtual meeting platforms. This remote process is set to remain until 31st January 2021, after which time members will be able to select either face-to-face on-site or remote auditing.
To help members pass as they take this important first step on their best practice journey, the voluntary accreditation scheme is listing some top tips to help pass the FORS Bronze audit:
Make sure all mandatory staff training is up to date
This important section of the audit seeks to ensure drivers and managers alike have completed the relevant mandatory training courses to embed safety and efficiency best practices.
For example, FORS asks operators to ensure drivers complete one FORS Professional safety eLearning module in the 12 months before the audit, and that all drivers have taken the compulsory FORS Security and Counter Terrorism eLearning module within the past 24 months.
Manager training must also be up to date. This includes mandatory training on maintaining continuous and effective management of the fleet activities for the responsible person, as well as providing current Professional Development Plans (PDPs) for all staff.
Graham Holder, Head of FORS Compliance, says, "It is important that members can evidence that all mandatory training has been completed. This can done by downloading the relevant information from the FORS Professional training register or by using the training dashboard."
Check all risk assessments are complete
Members should also make sure they have all evidence of a Health and Safety policy in place in order to pass the FORS Bronze audit.
Graham Holder notes, "Operators with over 4 vehicles or employees are used to completing thorough risk assessments and  ensuring they can evidence this is crucial during the Bronze audit.  To help, a checklist in the FORS Standard outlines each risk assessment required, so operators can make sure they have them all in place."
Check your vehicles
Graham Holder says, "Vehicle requirements are a key part of how FORS ensures its members operate safely. But members must also be able to demonstrate that they have a policy in place detailing how their vehicles, trailers and specialist equipment are inspected, serviced and repaired.
"Members must also include detail outlining how any leased vehicle van fleets are serviced and maintained, rather than relying on the service provider."
FORS advises licence holding members to make sure DVSA Operator Licence guidelines are followed for planned maintenance, as outlined in the Guide to maintaining roadworthiness, and ensure any third-party service providers also share vehicle service records.
Reporting defects on walkaround checks
The walkaround vehicle check is something all commercial vehicle drivers do every day to ensure vehicle safety before going out on to the road. For FORS Bronze audit success, members must be able to provide evidence of their walkaround and defect reporting system, which covers all vehicles, trailers and other equipment.
Likewise, operators must show sufficient evidence that any reported defects have been or are in the process of being repaired.
Graham Holder concludes, "It is important for members to remember that we want to see evidence of nil defect reports too, in line with the retention period indicated in the FORS Standard."
For more information about FORS Bronze Auditing, or how to become a FORS member, visit: www.fors-online.org.uk