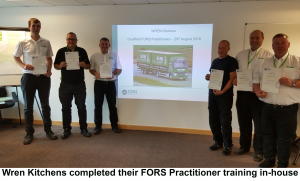 FORS approved courses are provided by a wide range of training providers.  The list below shows the courses that are approved and the organisations that provide them.
FORS Professional safety training focuses on the risks vulnerable road users are exposed to and help FORS operators fulfil their training requirements. The list includes courses to help operators achieve FORS requirements for Bronze (D4) and FORS Silver (S5), which specifically cover the safety of vulnerable road users.  The list also includes courses to help training staff meet specific competencies to deliver FORS Professional training; these courses are listed under the heading Train the Trainer
Some contracts stipulate that vehicle operators must meet the Work Related Road Risk (WRRR) requirements (which include training).  FORS Professional offers comprehensive training packages to ensure your organisation is fully compliant.  FORS Professional safety products are fully aligned to meet the requirements of FORS Silver, WRRR and CLOCS. The combined theory and practical parts of Safe Urban Driving and Van Smart provide contract compliance for five years.
If you are a training provider interested in delivering FORS approved training to comply with Work Related Road Risk, please click here for further information.
Visit the FORS Professional training register to view a list of candidates that have completed FORS approved training.
Learn how TfL is committed to WRRR.
Beyond Compulsory Basic Training (CBT)

Organisations licensed to deliver Beyond CBT – Skills for delivery riders

Phoenix Motorcycle Training

Beyond CBT

Name: Phoenix Motorcycle Training
Phone: 020 8819 4231
Email: bookings@teachmetoride.co.uk

Region: South London

Universal Motorcycle Training

Beyond CBT

Name: Universal Motorcycle Training
Phone: 0333 358 7333 / 0792 006 4907
Email: contact@universalmct.co.uk

Region: North West London
FORS Professional – Safe Urban Driving (SUD) Van Smart (VS) aligned to FORS Silver, CLOCS, WRRR

Organisations licensed to deliver SUD and Van Smart

Safe Urban Driving and Van Smart

AE Driver

Name: Elaine Harries
Phone: 0845  373 5000
Email: elaine.harries@actionexpress.co.uk

Region: South East, London, North West, East of England, West Midlands, South West, Yorkshire and the Humber, East Midlands, North East, Scotland, Wales

Anglia Compliance & Training Ltd

Name: Joe Cowley
Phone: 07403 756919
Email: info@angliacompliance.co.uk

Region: South East, London, East of England, West Midlands, South West, East Midlands, South Wales

BLT Logistics Services LTD

Name: BLT Logistics Services
Phone: 01636 613 624
Email: admin@bltlogistics.co.uk

Driver Hire Training

Name: Driver Hire Training
Phone: 0808 178 9977
Email: drivercpc@driverhire.co.uk

Region: South East, London, North West, East of England, West Midlands, South West, Yorkshire and the Humber, East Midlands, North East, Scotland, Wales

Emerson Crane Hire

Name: Jackie Valentine
Phone: 0208 548 3942
Email: training@emersoncranes.co.uk

Erith

Name: The Training team
Phone: 03709 508 800
Email: information@erithtraining.com

Fleet Source

Name: Fleet Source Training Team
Phone: 0345 600 4045
Email: enquiries@fleetsource.co.uk

Region: South East, London, North West, East of England, West Midlands, South West, Yorkshire and the Humber, East Midlands, North East, Scotland, Wales, Northern Ireland, Republic of Ireland, Europe

Haulage Training Institute 

Name: Haulage Training Institute
Phone: 01753 701 001 / 0777 990 0028
Email: a.aggarwal@hti-uk.com

Region: South East, Greater London, East of England, West Midlands, East Midlands

LGS Training

Name: Giles Begley
Phone: 01373 464776
Email: giles@lgstraining.co.uk

Region: South East, London, North West, East of England, West Midlands, South West, Yorkshire and the Humber, East Midlands, North East, Scotland, Wales, Northern Ireland, Republic of Ireland, Europe

Milebay Consultancy Ltd

Name: Caroline Lambert
Phone: 01438 986 013
Email: enquiries@milebay.co.uk

Old Oak Training Limited

Name: Old Oak Training Limited
Phone: 07475 303930
Email: john@oldoaktraining.co.uk

The Resources Group

Name: Alex Byrne
Phone: 0870 770 4112
Email: alex.byrne@the-resources-group.com

Region: South East, London, North West, East of England, West Midlands, South West, Yorkshire and the Humber, East Midlands, North East, Scotland, Wales

Seven Driver Training

Name: John Marshall
Phone: 07535 425 996
Email: training@sevenasset.co.uk

Region: South East, London, North West, East of England, West Midlands, South West, Yorkshire and the Humber, East Midlands, North East, Scotland, Wales

Sigma Studies Ltd

Name: Sigma Studies Ltd
Phone: 01375 671 111
Email: info@sigmastudies.co.uk

Safe Urban Driving only

All Training (Hull) Ltd

Name: Andrew Leonard
Phone: 01482 325 054
Email: info@all-training.co.uk

Region: East of England, Yorkshire and the Humber

Balfour Beatty

Name: Balfour Beatty – Driver Risk Management
Phone: 01332 476 374
Email: training@bbfleetservices.com

Beech Forklifts Ltd

Name: Hilary Wilkinson
Phone: 07811 127 141
Email: info.atbfl@yahoo.co.uk

Collett & Sons

Name: Andy Mullen
Phone: 07852 040 520
Email: andy.mullen@collett.co.uk

Region: North West, Yorkshire and the Humber

CPC

Name: The CPC Link Ltd
Phone: 01224 66 03 13
Email: info@cpclink.co.uk

CPC 247 Training

Name: CPC247 Training
Phone: 07585 556 448
Email: david@cpc24-7.co.uk

Cycle Confident

Name: Andrada Jichici
Phone: 02030316730
Email: contact@cycleconfident.com

David Bratt & Sons (Haulage) Ltd

Name: Stephen J Bratt
Phone: 0161 439 8124
Email: steve.bratt@davidbratt.com

Region: North West

Driver Skills Training

Name: Collin Tuck
Phone: 07918 697 902
Email: frances.tuck@driverskillstraining.co.uk

Freight Transport Association

Name: Jacqui Hillhouse
Phone: 03717 112 222
Email: JHillhouse@fta.co.uk

GB Transport Solutions Ltd

Name: FORS Training Team
Phone: 01753 316 026
Email: info@gbtransportsolutions.co.uk

Region: South East, London, North West, East of England, West Midlands, South West, Yorkshire and the Humber, East Midlands, North East, Scotland, Wales, Northern Ireland, Republic of Ireland, Europe

JLD Driver Training Limited

Name: Lisa Dixon
Phone: 01295 250821
Email: info@jldlgv.co.uk

Region: West Midlands, South Wales

John Raymond Transport Limited

Name: John Raymond Transport Limited
Phone: 01656 666 800
Email: u2us@jrt.co.uk

North East Logistics Academy Ltd

Name: Steve Roberts
Phone: 01642 232 850
Email: logisticsacademy@yahoo.co.uk

Region: North West, West Midlands, Yorkshire and the Humber, East Midlands, North East, Scotland

Skills Training Centre

Name: Yvonne Beddow
Phone: 0208 619 0939
Email: yvonne@skillstrainingcentre.co.uk

Region: South East, London, North West, East of England, West Midlands, South West, Yorkshire and the Humber, East Midlands, North East, Scotland, Wales, Northern Ireland, Republic of Ireland

SP Training

Name: Lindsey McGregor
Phone: 01228 530552
Email: lindsey.mcgregor@sptraininguk.com

Region: South East, London, North West, East of England, West Midlands, South West, Yorkshire and the Humber, East Midlands, North East, South West Scotland

Specialist Training & Consultancy Services

Name: Vicky McKay
Phone: 01282 687 090
Email: enquiries@specialisttraining.co.uk

Region: South East, London, North West, East of England, West Midlands, South West, Yorkshire and the Humber, East Midlands, North East, Scotland, Wales

WTTL

Name: Jordan Rees
Phone: 01380 723712
Email: enquiries@wttl.co.uk

Region: South East, London, North West, East of England, West Midlands, South West, Yorkshire and the Humber, East Midlands, North East, Scotland, Wales, Northern Ireland, Republic of Ireland, Europe

Trawöger Transport GmbH – based in Austria. Providing solution for foreign hauliers, delivering in many languages, including German, Hungarian, Slovakian and Czech

Name: Christian Schwentner
Phone: 0043 664 8879 9788
Email: christian.schwentner@trawoeger.net

Region: Europe

WJ North Limited

Name: Alan Brookes
Phone: T: +44 (0) 1782 481611  M: +44 (0)7824 412037
Email: alan.brookes@wj.uk
FORS approved WRRR training that includes on-cycle hazard awareness – aligned to FORS Silver, CLOCS, WRRR

BikeRight! 

Safe Urban Driving

Name: Liz Clarke
Phone: 01612307007
Email: driver@bikeright.co.uk

Cycling Scotland

Name: Christopher Johnson
Phone: 0141 229 5350
Email: Training@Cycling.scot

Region: Scotland-wide

Just Training

Protecting vulnerable road users

Name: Andrea Speak
Phone: 0116 216 6488/ 07917 122844
Email: info@just-training.co.uk

Region: South East, North West, East of England, West Midlands, Yorkshire and the Humber, East Midlands, North East

North East Logistics Academy Ltd

Name: Steve Roberts
Phone: 01642 232 850
Email: logisticsacademy@yahoo.co.uk

Region: North West, West Midlands, Yorkshire and the Humber, East Midlands, North East, Scotland

TTC Group Ltd

Vulnerable road user

Name: Andy Wheeler
Phone: 03330 113 113
Email: contactus@ttc-uk.com

Region: South East, London, North West, East of England, West Midlands, South West, Yorkshire and the Humber, East Midlands, North East, Wales
FORS approved WRRR training that includes on-cycle hazard awareness – aligned to FORS Silver, CLOCS, WRRR

McFarlane

Vulnerable road user

Name: Edward Hanley
Phone: 01628 822598
Email: training@mcft.com
FORS Approved safety training without practical on cycle training – raising awareness of VRUs – 12 month contract compliance only

Organisations licensed to use FORS Professional logo to dual brand training materials only

Deardens Haulage

Vulnerable road user

Name: Helen Dearden
Phone: 01460 62281
Email: helen@deardens-haulage.co.uk

Region: London, West Midlands, South West

Driver CPC 4U

Vulnerable road user

Name: Sue Leary
Phone: 0843 289 3211
Email: drivercpc4u@hotmail.co.uk

Region: South East, London, North West, East of England, West Midlands, South West, Yorkshire and the Humber, East Midlands, North East, Scotland, Wales, Northern Ireland

Driver Hire Training

Name: Driver Hire Training
Phone: 0808 178 9977
Email: drivercpc@driverhire.co.uk

Fleet Source

Work related road risk

Name: Fleet Source Training Team
Phone: 0345 600 4045
Email: enquiries@fleetsource.co.uk

Region: South East, London, North West, East of England, West Midlands, South West, Yorkshire and the Humber, East Midlands, North East, Scotland, Wales, Northern Ireland, Republic of Ireland, Europe

Focal Training

Urban driving

Name: Janet Johnston
Phone: 03338 000 018
Email: enquiries@focaletraining.co.uk

Region: North West, East of England, West Midlands, Yorkshire and the Humber, East Midlands, North East, Scotland

Jempsons

VRU awareness

Name: Peter Verlander
Phone: 07912268570
Email: peteverlander@jempsons.co.uk

Mineral Products Qualifications Council

Safeguarding Vulnerable Road Users and the Professional Driver

Name: Charlotte Pearson
Phone: 01159835775
Email: info@mpskills.co.uk

Region: South East, London, North West, East of England, West Midlands, South West, Yorkshire and the Humber, East Midlands, North East, Scotland, Wales, Northern Ireland, Republic of Ireland

RE Consultancy & Training Ltd

Vulnerable road user

Name: Richard Everitt
Phone: 01769 572447
Email: richard@safety-rec.co.uk

Region: South West

Stay On Track Training Ltd

Name: Hugh De-Peiza
Phone: 020 8310 6150 / 07580 462050
Email: enquiries@stayontracktrainingltd.co.uk

Transport Academy

Vulnerable road user

Name: Sarah Robbins
Phone: 01392 833 158
Email: sarah@transportacademy.co.uk

Region: South West
FORS Professional Training
Organisations licensed to deliver Collision Investigator

A P Safe Transport

Name: Andy Pollock
Phone: 01522 698928
Email: andy@apst.co.uk

Region: South East, London, North West, East of England, West Midlands, South West, Yorkshire and the Humber, East Midlands, North East, Scotland, Wales, Northern Ireland, Republic of Ireland
FORS Professional Training
Organisations licensed to deliver Road Risk Champion

A P Safe Transport

Name: Andy Pollock
Phone: 01522 698928
Email: andy@apst.co.uk

Region: South East, London, North West, East of England, West Midlands, South West, Yorkshire and the Humber, East Midlands, North East, Scotland, Wales, Northern Ireland, Republic of Ireland
FORS Professional Training

Organisations licensed to deliver Destination London

Drive Tech

Name: Drive Tech Training Team
Phone: 01423 876508
Email: tellmemore@drivetech.co.uk

Fleet Source

Name: Fleet Source Training Team
Phone: 0345 600 4045
Email: enquiries@fleetsource.co.uk

Region: South East, London, North West, East of England, West Midlands, South West, Yorkshire and the Humber, East Midlands, North East, Scotland, Wales, Northern Ireland, Republic of Ireland, Europe

Old Oak Training Limited

Name: Old Oak Training Limited
Phone: 07475 303930
Email: john@oldoaktraining.co.uk
FORS Professional Training

Organisations licenced to deliver LoCITY Driving

Anglia Compliance & Training Ltd

Name: Joe Cowley
Phone: 07403 756919
Email: info@angliacompliance.co.uk

Region: South East, London, East of England, West Midlands, South West, East Midlands, South Wales

BLT Logistics Services LTD

Name: BLT Logistics Services
Phone: 01636 613 624
Email: admin@bltlogistics.co.uk

Continental Landscapes

Name: Billy Vance
Phone: 07764 333 537
Email: billy.vance@continental-landscapes.co.uk

Drive Tech

Name: Drive Tech Training Team
Phone: 01423 876508
Email: tellmemore@drivetech.co.uk

Emerson Crane Hire

Name: Jackie Valentine
Phone: 0208 548 3942
Email: training@emersoncranes.co.uk

Erith

Name: The Training team
Phone: 03709 508 800
Email: information@erithtraining.com

Fleet Source

Name: Fleet Source Training Team
Phone: 0345 600 4045
Email: enquiries@fleetsource.co.uk

Region: South East, London, North West, East of England, West Midlands, South West, Yorkshire and the Humber, East Midlands, North East, Scotland, Wales, Northern Ireland, Republic of Ireland, Europe

Freight Transport Association

Name: Jacqui Hillhouse
Phone: 03717 112 222
Email: JHillhouse@fta.co.uk

Haulage Training Institute 

Name: Haulage Training Institute
Phone: 01753 701 001 / 0777 990 0028
Email: a.aggarwal@hti-uk.com

Region: South East, Greater London, East of England, West Midlands, East Midlands

John Raymond Transport Limited

Name: John Raymond Transport Limited
Phone: 01656 666 800
Email: u2us@jrt.co.uk

Milebay Consultancy Ltd

Name: Caroline Lambert
Phone: 01438 986 013
Email: enquiries@milebay.co.uk

Old Oak Training Limited

Name: Old Oak Training Limited
Phone: 07475 303930
Email: john@oldoaktraining.co.uk

QDL Training

Name: QDL Training Ltd
Phone: 0208 611 2542
Email: training@qdlservices.com

Seven Driver Training

Name: John Marshall
Phone: 07535 425 996
Email: training@sevenasset.co.uk

Region: South East, London, North West, East of England, West Midlands, South West, Yorkshire and the Humber, East Midlands, North East, Scotland, Wales

Sigma Studies Ltd

Name: Sigma Studies Ltd
Phone: 01375 671 111
Email: info@sigmastudies.co.uk
Train the Trainer (Safety courses) Theory only

Organisations licensed to use FORS Professional logo to dual brand training materials only

Transport for London
Train the Trainer (Safety courses) Practical only

Organisations licenced to use FORS Professional logo to dual brand training materials only

BikeRight!

Name: Liz Clarke
Phone: 01612307007
Email: driver@bikeright.co.uk

Cycle Confident

Name: Andrada Jichici
Phone: 02030316730
Email: contact@cycleconfident.com

Cycle Instructor Ltd 

Name: Rita Maestri
Phone: 08456 520 421
Email: info@cyclinginstructor.com

Outspoken Training

Name: Kieron McNab
Phone: 01223 473 820
Email: team@outspokentraining.co.uk

Region: South East, East of England, East Midlands

TTC Group Ltd

Vulnerable road user

Name: Andy Wheeler
Phone: 03330 113 113
Email: contactus@ttc-uk.com

Region: South East, London, North West, East of England, West Midlands, South West, Yorkshire and the Humber, East Midlands, North East, Wales
FORS Professional Training

Organisations licenced to deliver Staying Legal

All Training (Hull) Ltd

Name: Andrew Leonard
Phone: 01482 325 054
Email: info@all-training.co.uk

Region: East of England, Yorkshire and the Humber

Anglia Compliance & Training Ltd

Name: Joe Cowley
Phone: 07403 756919
Email: info@angliacompliance.co.uk

Region: South East, London, East of England, West Midlands, South West, East Midlands, South Wales

Drive Tech

Name: Drive Tech Training Team
Phone: 01423 876508
Email: tellmemore@drivetech.co.uk

Erith

Name: The Training team
Phone: 03709 508 800
Email: information@erithtraining.com

Fleet Source

Name: Fleet Source Training Team
Phone: 0345 600 4045
Email: enquiries@fleetsource.co.uk

Region: South East, London, North West, East of England, West Midlands, South West, Yorkshire and the Humber, East Midlands, North East, Scotland, Wales, Northern Ireland, Republic of Ireland, Europe

Haulage Training Institute 

Name: Haulage Training Institute
Phone: 01753 701 001 / 0777 990 0028
Email: a.aggarwal@hti-uk.com

Region: South East, Greater London, East of England, West Midlands, East Midlands

John Raymond Transport Limited

Name: John Raymond Transport Limited
Phone: 01656 666 800
Email: u2us@jrt.co.uk

Milebay Consultancy Ltd

Name: Caroline Lambert
Phone: 01438 986 013
Email: enquiries@milebay.co.uk

Old Oak Training Limited

Name: Old Oak Training Limited
Phone: 07475 303930
Email: john@oldoaktraining.co.uk

QDL Training

Name: QDL Training Ltd
Phone: 0208 611 2542
Email: training@qdlservices.com

Ridgeway Training

Name: Chris Shelford
Phone: 01293 535 850
Email: info@ridgewaytraining.co.uk

Region: South East, London

Sigma Studies Ltd

Name: Sigma Studies Ltd
Phone: 01375 671 111
Email: info@sigmastudies.co.uk
FORS recognised audit training

Organisations licensed to use FORS Professional logo to dual brand training materials only

First Transport Audits

Name: First Transport Audits Ltd
Phone: 0208 088 2181
Email: phil@ftaudits.com

Region: London, East of England, South East, South West, Midlands, North, Scotland, Wales

Fleet Source

Name: Fleet Source Training Team
Phone: 0345 600 4045
Email: enquiries@fleetsource.co.uk

Region: South East, London, North West, East of England, West Midlands, South West, Yorkshire and the Humber, East Midlands, North East, Scotland, Wales, Northern Ireland, Republic of Ireland, Europe