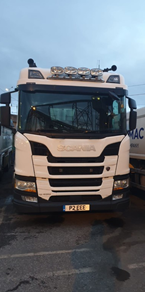 2E Transport Ltd is owned and operated by Patrick Tuohy, an owner operator based in the West London area. They currently sub-contract to work exclusively for Tarmac since 2005, transport aggregate materials around the south of England from their base depot at Hayes, Pump Lane. The company operates one 32 tonne tipper, a Euro 6 Scania G450.
Patrick is always looking to continuously adopt the FORS standard to the running of the business. Since joining the scheme, their business has noticed considerable improvements with fuel efficiency, safety record and driver training.
The company first heard of FORS through Tarmac, where they were required to meet become FORS Bronze accredited. They have been Bronze since 2015, with achieving Silver later that same year.
2E Transport Ltd passed their FORS Bronze audit first time. This was challenging to Patrick, but he quickly saw the benefits it brought to the company.
After gaining Bronze, the company confirmed that FORS was an invaluable resource and helping them move forward as a business with noticeable improvements. Silver accreditation was gained first time, with now Gold being the next step.
"Becoming FORS Bronze and then Silver has helped become a more conscientious and productive company" – Patrick Tuohy (Owner of 2E Transport Ltd)
Once 2E Transport Ltd gained their Bronze and Silver, they found the online tools incredibly useful. Utilising the driver training programme, classroom based and online e-Learning, they found it reduced accident rates by 100% over the past 24 months by increasing the awareness of road safety.
"Our FORS membership has been invaluable to our company and has helped continued commitment to sharing the roads as well as improvements to all areas of safety" – Patrick Tuohy (Owner of 2E Transport Ltd)
Since becoming Bronze and then Silver accredited, Patrick has made many improvements to the business:
MPG

Incidents per 100,000

Kms

CO2

NOx

PM10

Number of PCNs

Proportion of fleet that uses alternative fuels

Year 2018
0
0
0
0
0
0
0%
Year 2019
5.43
0
64.15
133.21
2.43
0
0%
Year 2020
8.41
0
62.23
129.21
2.36
0
0%
Percentage improvement
+54.88
0%
-2.99%
-3%
-2.88%
0%
0%
Performance data – Only a marginal drop in fuel efficiency, meaning fuel has stayed at the around the same average over the last 24 months, as well as continuing to keep PCNs and Incidents down to
Driver health and fitness review – All drivers are now required to complete an annual health declaration as well as report any health complications that may affect their driving. The company now has a fitness and wellbeing policy, which highlights the importance of staying active and promoting a healthy lifestyle with exercise
Recruitment of drivers – When recruitment is required, the company has a robust policy and procedure in place that demonstrates equal opportunities, a thorough induction process and right to work
Noise assessment – The company carries out their own in-house noise assessment using FORS recommended applications, of which the results reviewed and acted on where
Modal shift and alternative vehicles – The company attends all the major commercial motor vehicle shows to ensure they keep updating with the latest technology, as well sign up for demonstrator vehicles where they can and provide constructive feedback. 2E Transport Ltd will always consider alternative fuels and ULEZ type vehicles, with annual reviews carried out by the owner and transport manager.
Routing and scheduling – The company has introduced new routing and scheduling polies and procedures, to enable safer roads around high risk areas as well as complaints. This has contributed to the number of complaints and incidents being recorded to zero.
2E Transport Ltd intends to continue in investing in the latest technology and safety equipment. Replacing older vehicles when the time comes to the newest Euro standard as well keeping up to date with industry initiatives to help drive down fuel consumption and emissions. Low entry and high visibility vehicles will be continually researched, with the intention of upgrading the current fleet.
The company promotes FORS through the use of their logos on official letterheads as well as emails. They have also recently set up a social media account, which is updated periodically with pictures of the fleet at high profile locations.
Going for Gold and becoming accredited to the highest FORS standard will show that the company is dedicated to continual improvements, across the environment, road safety and driver training.
*Please note: All published FORS Gold case studies have been submitted by the accredited company named above and transcribed verbatim