4-RAIL Services Limited is a leading UK based scientific consultancy, providing environmental and materials consultancy, testing & analysis and support to the transport, construction and utility industries. They are UKAS accredited (Testing Laboratory No. 1931 & Inspection Body No. 0173), RISQS audited and qualified, UVDB registered and certified to BS OHSAS 18001 and ISO 9001 standards. For more information refer to www.4-rail.com.
Sarah Clifford, Fleet Administrator, explains the benefits of using the FORS Safe Urban Driving course to improve driver's awareness of cyclists and other vulnerable road users.
We came across FORS as a contractual condition from Transport for London and Crossrail. After looking at the requirements and benefits of joining the scheme, we quickly realised that FORS accreditation would fit perfectly with our company objectives to improve safety and environmental performance, as well as complementing our continual goal to improve fuel efficiency and reduce our environmental impact. Being a relatively small business, with no HGV's, but, running an expanding fleet of small vans, we were enthused by the FORS scheme to do more than just keep the vehicles MOT in date and pay the tax and insurance.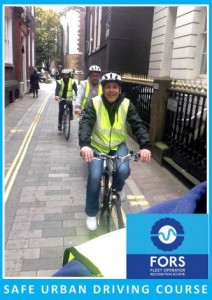 Once we obtained FORS bronze accreditation in October 2012, we were keen to progress and develop our fleet management system in order to obtain Silver and Gold. We took advantage of the excellent benefits available, including discounted driver licence checks with Advanced Check Limited and free FORS online driver training. Our in-house processes and procedures were strengthened, and we were able to develop a more in-depth vehicle induction process.
We swiftly achieved Silver accreditation in January 2013 and then met our target of Gold accreditation in April 2013.
'All drivers and managers shall undertake approved progressive training, with particular attention to the safety of Vulnerable Road Users'
4 Rail Services Fleet Management Manual.
Safe Urban Driving (SUD) was identified early on as an important requirement for our drivers. We also wanted to ensure, considering a vast majority of our works are held in the central London area, and taking in to consideration the number of fatalities on London's roads in recent years, that our drivers were actively aware of vulnerable road users.
It is a continual commitment of 4-RAIL Services Limited, to invest time and effort into educating our drivers, and we are very pleased that they have all now completed the Safe Urban Driving course through FORS.
The FORS Safe Urban Driving course offered both theory and practical content which complimented our requirements perfectly. 100% of attendees reported that the course was both useful & informative. The quality of the trainers was reported to be very good, even when dealing with a number of delegates from other companies, who perhaps weren't taking the course as seriously.
'I wasn't really looking forward to the course, but was pleasantly surprised'
A.S, 4-RAIL Services, Technologist feedback from his SUD course
'I will be more vigilant and give priority to the cyclist'
F.K, 4-RAIL Services, Technologist feedback from his SUD course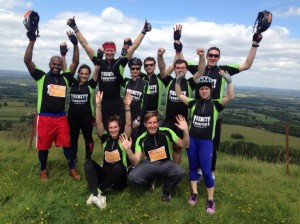 Our drivers have been able to fully appreciate the benefits of having a better understanding of other road users, in particular, cyclists. A majority of our drivers have reported that they are consciously more aware of vulnerable road users now, and give them extra consideration and empathy.
Also, since completing the Safe Urban Driving course, some of our drivers have developed a profound interest in cycling, with many grouping together to take part in a charity bike ride from London to Brighton. We were extremely proud of our staff, who managed to raise £1,460.00 for our chosen charity, Trinity Palliative Care Services and Brian House Children's Hospice.
It is now an essential part of 4-RAIL Services training plan and vehicle induction, that our drivers complete the Safe Urban Driving course before being permitted to use a vehicle, and then refresh their SUD course every 3 years. This ensures we continue to improve our driver awareness to vulnerable road users. 4-RAIL Services also utilise the FORS e-learning modules as initial training within the first 6 months of employment, and as refresher training every 12 months. Our recently appointed, new, Fleet Manager, Ms. B. Mieczkowska, is also undertaking the FORS Practitioner courses.