S Walsh & Sons Ltd have been based in Essex for over 30 years our core business is extracted waste removal in London and the surrounding areas to all major construction companies. We operate 3 recycling sites where we take any waste that is recyclable, we can then screen and wash the material to turn it into a saleable product that we sell to the construction companies it came from. Waste material that is not recyclable is take straight to landfill. We have invested heavily in our road fleet that now numbers 97 tipper lorries and in tugs and barges that operate on the River Thames. Our river fleet now numbers 9 barges from 1ktn to 0.5ktn.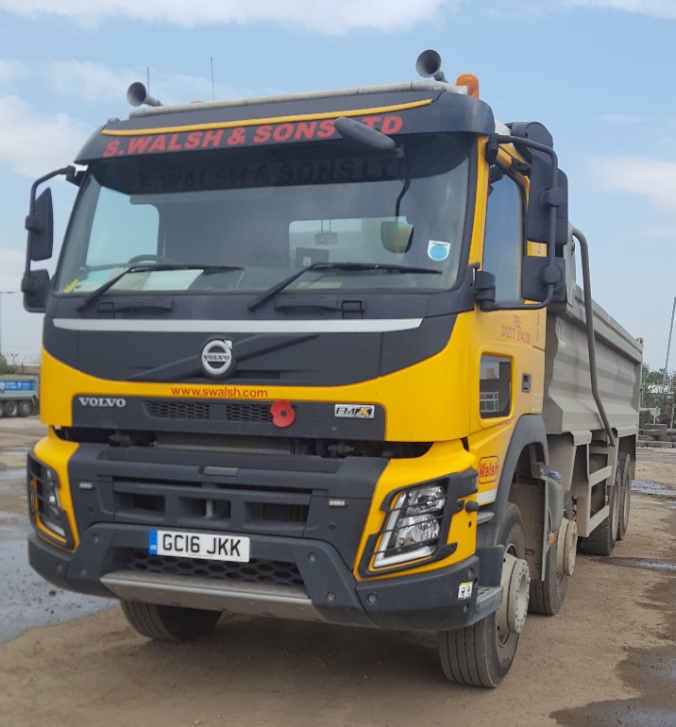 We have been a member of FORS since 2010 when we realised that membership was a way forward for our business. This was an operational and commercial decision which made sense especially when it became contractual with our client base, however the benefits of the driver training, vehicle standards and management policies by far out-weigh any commercial decision.
Bronze status was achieved in 2010 progressing to Silver 2015 and finally Gold also in 2015.
Since we joined FORS in 2010 we have embraced the cycle safety culture championed by Crossrail, FORS and CLOCS all our drivers attend the Safe Urban Driving Course to appreciate what it is like to be a cyclist. Further more we have kitted out our lorries with side sensors, left turn alarms, underrun bars and state of the art camera system with 5 cameras recording simultaneously with the recording stored on a hard drive for a minimum of 21 days. All of this goes to aid the driver in minimising the nearside blind spot.
S Walsh has now moved its transport operations to Rainham which means a shorter distance travelled to site, less fuel which also means less emissions.
With our river vessels we contribute to the 5 million tonnes of freight transported on the River Thames each year (based on latest DFT figures 2013). This amount of freight removes 265,000 vehicle movements from the congested roads of London which for us with the amount that we move gives us a saving on fuel. This fuel saving is going to increase with the investment of more barges for the river fleet. Our latest fuel figures are clouded by the increased size of the road fleet.
| | | |
| --- | --- | --- |
| | Fuel Used (Ltrs) | CO2 Output (Tonnes) |
| 2013 – 2014 | 1,383,436 | 3,663 |
| 2014 – 2015 | 1,092,201 | 2,892 |
| 2015 – 2016 | 1,351,110 | 3,434 |
| 2016 – 2017 | 1,758,581 | 4,656 |

Being FORS gold has helped us to promote to our sub-contractors the benefits of the scheme which they have taken on-board and as a consequence we now only use sub-contractors that are FORS bronze as a minimum. We now have 60% of our sub-contractors on FORS silver or above.  We are still waiting for our new offices to be built but once up we will have a dedicated training room to allow the drivers and staff to engage in e-Training and keep abreast of the latest developments in the FORS world and outside.
Please note: All published FORS Gold case studies have been submitted by the accredited company named above and transcribed verbatim