Established in 1989, Corbyn Construction Ltd is now jointly owned and managed by Michael Cusack and James Molloy. Corbyn has grown in size and confidence to become a successful contractor specialising in Groundworks and RC Frames.
We are proud of our strong on-going relationships with a variety of reputable clients from large main contractors, to private developers and housing associations.
With our expertise and breadth of experience, we can offer the complete Groundworks and RC Frame solution for any project within any environment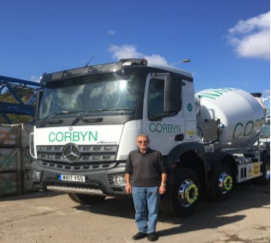 As a medium sized company Corbyn are able to undertake all projects from £1million up to £12million, in Central London and we are a company which is London based in E16
Dave Gayder our Transport Manager is our elected Fuel and Emissions Campion and is also our FORS Practitioner.
The company in the last 3 years has been committed to fuel savings so as to reduce London's emission and improve the environment using the tools provided by FORS and their standards.
We came across FORS when tendering for work across London. When we looked at the requirements and benefits of joining the scheme we saw that they fitted in perfectly with our ethos of improving safety whilst complementing our drive to improve fuel efficiency and reduce our environmental impact
As a company we take compliance and safety very seriously and we are proud to have achieved Bronze, Silver and Gold Accreditation. We passed our Bronze, Silver and Gold accreditation first time. FORS helped us by providing training and tools that improved the policies and procedures.
The performance management toolkit really helped us set our targets for reducing our carbon footprint and Penalty charge notices while improving our MPG. FORS has helped us improve our filing systems and procedures.
As a FORS Gold member, we have seen the benefits of the FORS standards has made to our commitment to road safety and driver training, using some of the toolkits provided by FORS, such as performance toolkits for fuel and CO2 emissions.
We have also seen the benefits of the offers supplied by other associate members, such as camera systems. The company have also made use of the FORS practitioners courses supplied as a benefit of FORS.
"FORS has proved to be a valuable partner in the safety of both our vehicles and drivers" James Molloy, MD Corbyn Construction Ltd
FORS has helped us to improve our vehicle safety and driver safety and management training All our drivers are required to fill in an extensive and comprehensive health forms every year which are above the requirement of the FORS Standard of every 5 years and the company have invested heavily in safety equipment. All our vehicles are fitted with front, rear and side safety cameras. Reversing Audible warnings, side scan equipment, in addition to class 4, 5 and 6 mirrors, side under run bars and warning signage to warn vulnerable road users of a left turn on the nearside of vehicle.
We have also invested in our drivers and management training through FORS, making the best use of their training courses, e-learning and FORS Practitioner courses.
By using the FORS toolkits and training we have achieved in 2016/17 a reduction in our accidents levels by 1.2% We have also improved our MPG across the Fleet by introducing Euro 6 compliant vehicles in readiness for the T-charge and the ULEZ charge (Ultra Low Emission Zone). We have achieved this by making sure our driver selects the best possible route to our sites and reduced our Idling across the Fleet. By 2019 the whole fleet of vehicles within Corbyn Construction Ltd will be Euro 6 compliant.
All our tipper fleet will be fitted with quiet tipping bodies so as to reduce the noise levels within London and its resident's impact on noise pollution. Both our drivers and management have seen the benefits of regular safety training, using both, classroom training and e-learning and our Transport Manager has seen the benefits of the FORS Practitioner Training, this has meant that the companies vehicle accident rate has fallen yet again this year, for the third year running. The company have a progressive policy in place for the recruitment of drivers.
"Safety to our drivers and the vulnerable road user is of paramount importance to our company" Michael Cusack, MD of Corbyn Construction Ltd
As a London based company, we felt that it was our duty to ensure that our company was committed to reducing accidents as well as the carbon footprint. After passing the Bronze accreditation, we recognised the benefits of FORS and its standards, they also fitted well with our company ethos. We soon realised that progressing to Silver and Gold accreditation as part of the company's commitment to London and its residents would benefit both the company and its residents and that FORS would provide a platform to achieve the highest standards of road safety and emissions, thus making London a better place to be in.
We have reduced our accidents by 1.2% and improved our MPG across the Fleet. We have achieved this by making sure our driver selects the best possible route to our sites and reduced our Idling across the Fleet
| | | | |
| --- | --- | --- | --- |
| | Miles driven | Litres of fuel used | MPG |
| Sept – Aug 2016 | 605694 | 452165 | 4.4 |
| Sept – Aug 2017 | 349776 | 395760 | 6.6 |
| Percentage improvement | 42% | 13% | 33% |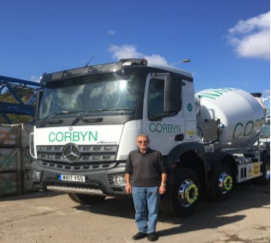 The company have future plans in place to further reduce the carbon footprint and reduce harmful emissions. By 2019 all the company vehicle fleet will be Euro 6 compliant and the company will continue to look and evaluate the use of other alternative fuelled vehicles, and low entry vehicle cabs together with other use of modal shift, such as barges etc. FORS Gold Accreditation shows how dedicated we are as a company to improving road safety and the safety of all vulnerable road users in London. We will continuously use what FORS has taught us to help reduce our carbon footprint and make the roads so safer for everyone that uses them.