P J brown was started by the company's namesake Peter John Brown in 1980, with Peter beginning as a sole trader with a single tipper lorry. In the years since then, the company has grown to become the largest muck away company in Sussex with a current fleet in excess of 50 LGV vehicles.
Over the years, the company expanded into other areas of the construction industry, firstly and perhaps most notably, civil engineering and most recently into groundwork's. Other examples of the scope of services that P J Brown Construction ltd now provide are crushed concrete, land remediation, Grab lorry hire, soil recycling and screening, earthworks and land redevelopment. The expansion into these different sectors of the industry is a key indication of the progressive attitude the company maintains towards all things it undertakes, however finding a way to accurately show the company's dedication not only to road safety and best practice but also to the environment, both ecologically and socially, has always proved a challenge – until the FORS standard that is.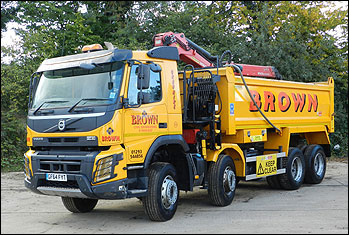 As the company grew (currently over 300 employees) so too did the areas in which it operates, one such area being Central and Greater London.
Although the company has always managed the data it collects in areas such as Telematics, FORS prompted the need to collate the data in such a way that it was more readily accessible, giving us an easier filing template which gathered it into one place, this also improved the speed in which any inquiries could be resolved.
"The FORS Journey"
With more and more sites contracting only to those companies that are FORS registered and accredited it became a necessity for us, as a forward thinking company, to achieve FORS accreditation in order not just to compete for the work available, but to secure the jobs and futures of our staff and drivers and equally to become a known FORS accredited company allowing P J Brown an opportunity to demonstrate its capabilities to its peers.
Commencing the FORS process at the beginning of May 2015, we achieved Bronze on 11th June, followed by Silver on 11th September. Silver accreditation provided P J Brown construction ltd with the impetus to move onto a more digital stage with its records, further streamlining the company's ability to be as accessible as possible. The Transport/Plant Manager Mark Robinson worked closely with other members of the transport team to ensure that the road to accreditation went as smoothly as possible and thus ensuring it would be consistently maintained throughout the year.
With the promotion to Fuel/Emissions Champion, the responsibility of Compliance Management for the transport department and FORS fell to Richard Brown who oversees the ongoing FORS compliance process.
FORS very quickly proved not only worthwhile but a vital asset both in securing more job opportunities (which it did above and beyond expectations) but also in the internal working of the company itself.
"With the introduction of Fresnel linear reflectors, the drivers, to a man, have all reported easier and better visibility in a previous blind spot"
However and perhaps most surprisingly to the company itself, which originally treated accreditation as a necessary expense, the biggest change has been to the real world performance of P J Brown Construction ltd as a whole, as well as to the vehicles performance and the individual drivers themselves. With the introduction of Fresnel linear reflectors, the drivers, to a man, have all reported easier and better visibility in a previous blind spot making driving not only safer for other road users but also giving our drivers more security in executing manoeuvres not to mention the fact that we've lowered accident damage costs in 2015 by 41.66%.


As we start working in more urban areas and they become more numerous, cyclists became a constant worry to our drivers. P J Brown can now proudly state we are CLOCS champions (Construction Logistics and Cycling Safety) and we have ensured that every driver undertakes a Safe Urban Driving course as part of ongoing training awareness.
The ultimate aim of course is one of continual improvement in all areas of our transport operation, improvement not only of the company itself but the way in which P J Brown interacts with the world around it.
Achievement of GOLD would not only be excellent in terms of our marketability but would serve to confirm that P J Brown construction ltd is both committed to meeting the highest standards of compliance and road safety whilst simultaneously striving to set new ones. FORS is the bench mark of said standards and being part of a select group that has achieved its highest accreditation would be a validation in and of itself.