Simon Ellis started the business 14 years ago with a single hiab vehicle having had many years of experience in the transport sector. Based in Southend on Sea we now operate 5 vehicles all equipped with lorry mounted cranes predominately delivering portable accommodation, steelwork for both construction and rail sectors and air conditioning mainly in the London area for local companies and from our own warehousing. We have seen the company fundamentally change and improve during our association with FORS.
We first encountered the FORS scheme in 2011 during a period when we were working on the Olympic park and quickly realised that in order to maintain and gain new business in our sector this standard would be a necessary requirement. At this time we decided to give it a go. It seemed quite daunting initially but we worked through the FORS standard for Bronze producing procedures and a new reporting structure and booked a bronze audit.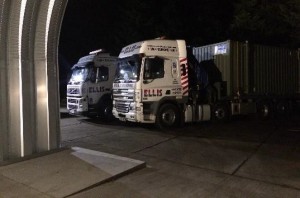 We hadn't achieved the standard at first but within 4 weeks of our initial audit we were Bronze accredited and ready for 2012. We were nervous before the audit having never been through a process like this before but found the auditor to be understanding, helpful and genuinely keen for us to achieve the required standard. It quickly became apparent that the FORS idea is to promote and help operators improve their safety, efficiency and training on an inclusive basis rather than just being another formal regulatory body.
We spent the next few years working hard on maintaining our bronze standard, ensuring that the necessary monitoring and reporting structures were in place before we decided to progress to Silver. Already working on some Crossrail sites we had completed a programme of installing additional safety feature to our vehicles and on reading the FORS Silver requirements believed that this was attainable for our company. This we achieved in February 2015 and we have now completed our first re audit of Silver and hopefully we are moving to Gold here. The procedures that we have implemented in order to make this advancement together with the introduction of telematics in vehicles, have allowed us to track performance in all areas of the business, fuel, safety, PCNs and monitoring of driver individual accreditation and training putting these indicators on a regular and formal basis making us more aware of where our operation has succeeded and how other areas can be improved and reformed.
'We have seen the company fundamentally change and improve'
We have seen improvements to safety and fuel efficiency across our fleet and have actively involved our long serving staff in the process of change and improvement throughout our involvement with the FORS scheme. We are no longer a company with an owner and drivers but have developed an inclusive culture which allows for ongoing participation in company policy from every level. Regular discussion covering the development and implementation of existing and future working practices has allowed everyone to take a full part in the promotion and advancement of the company. An agreed and targeted training programme for everyone including take up of TFL funded courses such as the Safe Urban Driving has allowed us to ensure that we all get training that is progressive and appropriate to the tasks that we undertake rather than just an accumulation of hours.
'developed an inclusive culture which allows for ongoing participation in company policy'
Initial demonstration of KPI improvement in respect of fuel usage
| | | | |
| --- | --- | --- | --- |
|  Fuel Analysis | Litres Used | Total KMs | Average MPG |
| Nov 14 – Nov 15 | 87,668 | 234,647 | 7.55 |
| Dec 15 – Mar 11th 2016 | 80,696 | 218,610 | 7.711 |
| Percentage MPG  improvement  | | | 2.12% |
| Following additional driver support | | | |
| Jan 16 – Mar 11th 2016 | 15,887 | 43,816 | 7.78% |
| Percentage improvement on Year 1 Baseline | | | 3.04% |
Achieving the FORS Gold Standard would demonstrate our commitment to providing safer and more efficient transport operations. It is a platform from where our company can grow and improve further by updating and investing in additional safety features, implementing fuel efficient policies and maintaining and targeting an increased level of relevant training for our staff. We have gained a greater understanding of how our business operates, where we should set our standard going forward and undoubtedly improved the working environment for ourselves and those around us.
Martin Ellis Company Secretary