Adib services ltd is a sub-contract haulier for Tarmac, the company was started in 2016 by Paul Adrian Banu. They transport concrete delivering to various construction sites all over the London region. Director and driver Paul Adrian Banu continually observes the FORS standard when reviewing and making decisions for the business. FORS has helped the company become a more compliant operator helping to be safety conscientious.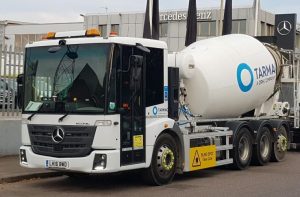 I first heard about FORS through Tarmac. I looked at the benefits of joining the scheme and I saw that these were standards that we wished to adopt of improving the safety for both my vehicle and myself as a driver. The information and tools provided enabled us to produce documents and prepare effectively for annual audits.
I was able to achieve our first FORS bronze accreditation with ease, thanks to the guidance provided by FORS. After achieving our bronze accreditation, we were encouraged to aim for a FORS silver accreditation, after seeing the noticeable improvements within the company after implementing the processes required for a bronze accreditation.
After becoming Bronze and seeing the benefits FORS made available to me, especially the e-learning and fuel management, I decided to move forward and apply for Silver. i was awarded the Silver accreditation after this the only way is Gold.
 "As a company have learnt a great deal regarding best practice from FORS and I will continue to move forward with our e-learning which has been made available to us through FORS." – (Director) Paul Adrian Banu
The e-learning modules are a constant form of training along with the toolbox talks on the FORS website improving my knowledge.
"FORS has proved to be very invaluable way forward for the business." – Paul Adrian Banu
The main reason for progression was that i wanted to demonstrate to Tarmac and their customers that i was capable of meeting the challenges ahead. It is important that we continue to improve the operations of the business and by doing this we are in a better position to benefit from more contracts and continued expansion in the future.

| | | | |
| --- | --- | --- | --- |
| | KMPL | Incidents per 100,000 Kms | Number of PCNs |
| Jan18-Mar18 | 1.03 | 0 | 0 |
| Apr18-Jun18 | 1.11 | 0 | 0 |
| Percentage improvement | 7.76% | nil | nil |
As an owner driver I complete a health declaration annually, but are aware any changes to health that could affect my ability to carry out daily tasks need to be reported immediately.
If I need to recruit new drivers, it is usually by word of mouth and recommendations. All new drivers have to complete a two week buddy training plan, to enable us they have had the correct training required.
We have looked into alternative transport modes and the possibility of an alternative vehicle to include Hybrid and hydrogen powered vehicles, when vehicles are bought to the market that enables us to use them for our workload, we will definitely look into the possibility.
Our plans for the future are to continue monitoring and improving where possible through ongoing training. Becoming FORS Gold accredited will show that our company is dedicated to continual improvements in our service to our contractors and customers. As a small business I am committed to a safe and responsible transport industry, that I take my responsibilities to help achieve a safer and more environmentally friendly transport industry, willing to take vulnerable road users into consideration and reduce the impact to the neighbourhoods I operate in. Going forward I wish to continue contributing to the FORS ethos of best practice within my industry.