Advanté invented the concept of instant start welfare through our Oasis range and are now the supplier of choice for many of the major players in the construction industry. Our brand name has become the generic term for welfare units, but please don't forget that not all welfare units are Oasis units!
Our reputation is based on our quality product and service as well as our pro-active approach and the importance we place on understanding our Customer's requirements. We have in place a Client Charter for the Oasis experience, which outlines our commitment to our Clients and details the service you can expect from Advanté and Oasis. We're proud to put our name to it. In addition to providing quality site accommodation to your site, we are increasingly recognised as a leading reliable transport provider. The capability of our lorries means we are able to carry out a full range of transport services; from delivering cabins to your site, moving your owned accommodation site-to-site or moving materials on site. Andy Goldsmith, our Transport Manager is our elected Fuel and Emissions Champion and he explains how important FORS is to our Company.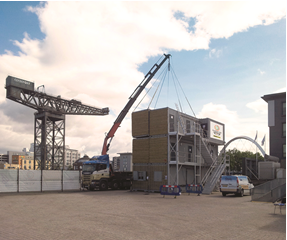 We came across FORS when tendering for work across London. When we looked at the requirements and benefits of joining the scheme we saw that they fitted in perfectly with our ethos of improving safety whilst complementing our drive to improve fuel efficiency and reduce our environmental impact.
We take compliance and safety very seriously so we achieved our Bronze and Silver Accreditation first time. FORS did help us by providing training and tools that improved the policies and procedures.
 The performance management toolkit really helped us set our targets for reducing our carbon footprint and improving our MPG. FORS has helped us improve our filing systems and procedures.
 'FORS has helped us achieve compliance and safety'
 All our drivers have completed their Safe Urban Driving course which was funded by the Transport for London. We have also invested heavily in vehicle safety systems such as 360 degree cameras, nearside proximity sensors and audible alarms for all our vehicles
'We haven't received any Parking fines or Charges in the past 2 years'
 We have managed to keep our MPG across the fleet at 13 MPG and not receive any parking fines or charges for the past 2 years.
| | | | |
| --- | --- | --- | --- |
|   | Litres of Fuel | Mileage | MPG |
| Sept 2014 – Aug 2015 | 138,018 | 362,197 | 13.12 MPG |
| Sept 2015 – Aug 2016 | 142,935 | 376,163 | 13.16 MPG |
| Percentage improvement | 3.56% | 3.86% | 0.3% |
Annual improvement in MPG!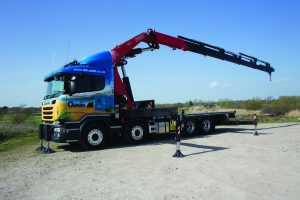 Gaining FORS Gold Accreditation shows how dedicated we are as a company to improving road safety and the safety of all vulnerable road users in London as well as nationally. We will continuously use what FORS has taught us to help reduce our carbon footprint and make the roads so safer for everyone that uses them. We have also managed to make a significant saving by reducing our fuel usage and improving our MPG. We have also reduced the amount of accidents we had on the previous year which resulted in our insurance company reducing our premiums.