AFI-Uplift Ltd is one of the largest powered access hire companies in the UK. From 22 locations throughout the UK, the company runs an in-house fleet of 47 delivery vehicles, ranging from 44t articulated low loaders to 7.5t rigids. AFI has over 5,000 access platforms and these vehicles deliver and collect them at sites and premises around the clock. Paul Shipman, Group Operational Support Manager, describes how achieving the FORS accreditation has enabled AFI to not only meet contractual requirements but also to help raise awareness of road safety. This is in line with AFI's commitment to bring about improvements in operational efficiency.
"We were made aware of FORS when tendering for work across London with a number of large construction companies. When we looked at the requirements and benefits of joining the scheme we saw that they fitted in perfectly with our ethos of improving safety whilst complementing our drive to improve fuel efficiency and reduce our environmental impact."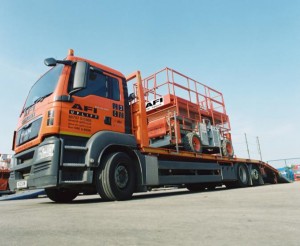 "We already had in place all of the management systems required to achieve Bronze level, so we passed first time, but the auditor also gave us some very useful advice on best practice in other companies which allowed us to make adjustments and further improve our own systems.
"We are always striving to improve our standards, so the next logical step was to go for the Silver accreditation. We used the advice given by the FORS auditor to review and change a few of our procedures, we sent all of our London based drivers on the Safe Urban Driving training funded by FORS and we invested heavily in vehicle safety systems such as nearside proximity sensors and left turn alarms etc to ensure that we were doing everything we could to keep all road users safe.
"… continuous improvements throughout our transport operation."
"I personally took advantage of attending the FORS Practitioner workshops which proved to be very beneficial, not only because of the course information, but also because it gave me the chance to discuss issues with my peers from other companies and industries to see how they approach them. I then took what I had learnt back with me and have applied the knowledge gained to various aspects of our transport management. We have taken full advantage of the FORS associate scheme and are now using Advanced Check Ltd to carry out our drivers' licence checks, which we now do on a risk based format. This is helping us to ensure that we meet our duty of care obligations. We are also working towards a revised issue of our 'Driver's Handbook' and are taking into account many of the road safety and driver welfare aspects from the course when drawing this up.
"Becoming FORS Gold accredited shows that we are fully committed to safety and environmental issues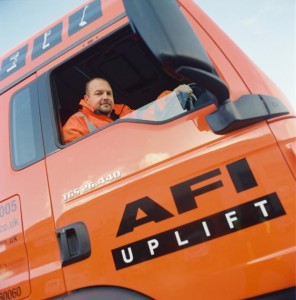 and are at the forefront of the powered access industry in striving to improve standards in all aspects of our business. We are also implementing a major customer service initiative, and achieving Gold shows our customers that as a company we always strive to exceed their expectations and requirements.
"Achieving Gold will not be the end of our journey – the framework of the FORS accreditation will be used as we move forward to make continuous improvements throughout our transport operation and in other areas of our business."