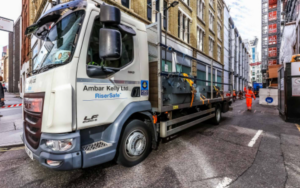 Ambar Kelly Ltd have been around for the past 18 years, Based in Welwyn Garden City, the Company currently have two 7.5t Lorries and one 3.5t van. Our specialist project coordinators have a wealth of experience working with 3D modelling platforms on diverse projects. Our In-house CAD technicians work with the client to develop bespoke interface requirements for each project. We are fully dedicated and certified manufacturing capabilities. Each welded Ambar Kelly RiserSafe® unit is manufactured to CE execution class II, structural steel and welded to the relevant welding procedure specification (WPS) by a certified coded welder. As an Engineering company, we employ 27 employees including one full-time driver. The company produces specialist and bespoke cast-in, patented RiserSafe® systems, which is a cradle to grave product that protects people from the danger of falling from height and stays in place throughout the life of a building.
We have been members of FORS since 2014 and are very proud to show that we are Gold accredited and recommend all companies we come across to join FORS we they haven't already. We looked at the benefits of joining the scheme and we saw that these were standards that complimented our own safety values and all companies could also benefit from what FORS offer.
FORS has helped us to implement safe systems and best practices and enabled us to improve the transport side of our business. We soon went onto applying for our FORS Silver accreditation which we achieved in 2015. We have been Gold accredited since 20218.
' FORS mirrors our company ethos in compliance and safety' – Nicky Lawrence FORS Practitioner.
FORS has benefitted us by being able to achieve higher standards through their driver training programme, both classroom based and through online modules, along with FORS toolbox talks. This has led to our driver and management having an enhanced understanding of road safety, fuel efficiency and tyre wear plus it has raised our awareness of the needs of other vulnerable road users. Our driver has completed the DCPC Safe Urban Driver course and both he and the management team have completed the FORS eLearning modules and FORS Practitioner Courses.
'We are proud to announce that we are now carbon neutral' – Alex Bardett, Managing Director  
Through the progression to Gold, we have equipping our vehicles and driver to the highest safety standards, our accident rate has remained at zero over the past two years. Our lorries are now fitted with recording 360 degree cameras, telematics, tracker systems, near side proximity sensors, audible left turn alarms, class IV,V, VI mirrors, lane departure warning and warning signage.
| | | | |
| --- | --- | --- | --- |
| | MPG | Incidents per 100,000 Kms | Number of PCNs |
| July 2018 – June 2019 | 16.89 | 1 | 0 |
| July 2019 – June 2020 | 17.77 | 0 | 0 |
| July 2020 – June 2021 | 20.54 | 0 | 2 |
| Percentage improvement | 15.59% in the past 12 months | 100% improvement since 2018/2019 | 200% increase |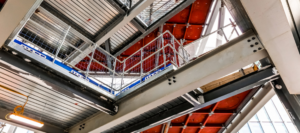 We get our driver to complete a comprehensive Medical Declaration on a annually basis even though the FORS Standard states once every 5 years. It's also mentioned in the drivers handbook that if they at any point in time staff suffering from a medical condition they need to notify the company ASAP as well as if they need to start taking medication prescribed by their GP or over the counter drugs. We will then investigate it to see if it's still safe for the driver to be driving for the company and we may even ask the driver to get a letter from his doctor informing the company if he is still able to drive for the company. We will then start doing more driver assessments on the driver to make sure he isn't a risk to the company or anyone on the road.
We have recently adopted a recruitment policy to try and help us recruit young drivers into the Transport industry.
We only use the Operating centre for parking our lorries and loading our steel fabrication so we can then go and deliver it. The only noise generated is when my lorries are idling so we can carry out our defect checks. We load our vehicles using forklifts. All my lorries have white noise reversing alarms fitted to them.
We carry steel fabrication to construction sites across the whole country. Using a lorry is the most cost effective and reliable way of transporting our products. All our vehicles are now Euro 6 Compliant. We have looked at electric vehicles and because of the weights we carry and terrain we drive on we can't use low entry cabs.
We will continue using what FORS has taught us to improve our MPG and reduce any wasted idling we might have and keep our accidents down to zero'
The future plans of the company are to ensure that our safety record continues to be at the highest level, through driver training and fitment of vehicle safety equipment.
Our company philosophy is to strive towards the safety of both our employees and the public, both in the workplace and of on the road.
FORS Gold Accreditation shows how dedicated we are as a company to improving road safety and the safety of all vulnerable road users in London as well as nationally. We will continuously use what FORS has taught us to help reduce our carbon footprint and make the roads so safer for everyone that uses them.
Contact us via
www.linkedin.com/in/nick-atkinson-risersafe