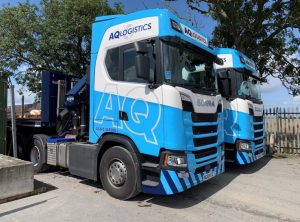 AQ Logistics are based adjacent to the A1, close to the village of Ainderby Quernhow, near Thirsk, North Yorkshire. We run a modern fleet of 22 trucks plus lighter vehicles. The majority of our vehicles are equipped with state-of-the-art remotely controlled cranes which allow our operators to manoeuvre loads in a safe and precise manner whilst undertaking the complex work in which we specialise.
My name is Rob Macaulay, I recently stepped-up to the role of Managing Director at AQ Logistics having previously held the position of Operations Director. My main achievement since taking on the position has been to concentrate the activities of the company back to our core business of lorry mounted crane work, whilst reducing our reliance on general haulage.
FORS accreditation has assisted in steering the company through this period of change. Specifically, the FORS methodology has had a marked effect in reducing the occurrence of incidents and accidents.
Our involvement with FORS began in 2011 when we were asked to supply specialist vehicles for the Crossrail project. FORS Bronze accreditation was a requirement.
AQ Logistics passed the Bronze audit at first attempt. We found that we already had the majority of the correct systems and procedures in place, it was mostly a case of administrative work aligning to the FORS methodology, which can be quite prescriptive.
Progression to FORS Silver became a business necessity as an increasing number of clients, particularly those with work in the Southeast of England, were beginning to require accreditation at Silver level.
AQ Logistics gained Silver accreditation in 2013. Following accreditation, we experienced an increase in workload as customer confidence grew in the knowledge that we were operating at the FORS standard. Most of our customers now insist on a minimum standard of FORS Silver.
Since adopting Mandata TMS in 2007 we have continually updated and added to the system. Telematics software, along with remote tachograph monitoring, have given us real- time information and the ability to monitor operational efficiencies. Most recently an upgraded camera system has been installed on all our trucks, enhancing our ability to further improve driver compliance. Maintaining a process of continual improvement remains one of the underlying principles of our business.
As part of our commitment to continual improvement we used the structure of the FORS audit as a base for our internal quality system. This ensures we always operate at the FORS standards. Additionally we have adopted the FORS Collision Management Toolkit, which along with the FORS collision management training has paid dividends in reducing the occurrence of accidents and incidents.
'During our time with FORS we've seen an increase in operational efficiencies and a reduction in work related safety issues. Our aim is to ensure that compliance remains at its high level and improvements are made wherever possible' – Rob Macaulay, Managing Director

 'Adherence to FORS procedures ensures that AQ Logistics continues to maintain the very highest standards' – David Micklefield, Operations Support Manager 
 MPG

Incidents per 100,000

Kms

 CO2
 NOx
PM10
 Number of PCNs

Proportion of fleet that uses alternative fuels

Year 2019
8.32
1.03
2470
3306
56.7
29
0%
Year 2020
8.5
0.98
1216
1777
29.8
11
0%
Year 2021
8.2
0.48
1286
1796
30.1
9
0%
Percentage improvement
See note below *

 

53%

 

48%

 

45%

 

47%

 

69%

 

0%
 *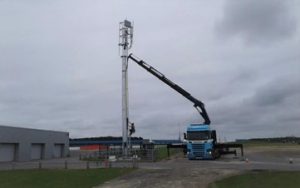 MPG – The degraded mpg figure can be attributed to:
The profile of our work changed over this period. We significantly reduced the volume of general haulage work and at the same time increased the volume of on-site crane work. Our vehicle fleet was adjusted accordingly, with five general haulage tractor units deleted from the
The mileage covered by light vehicles has
Every employee is required to complete an annual health questionnaire allowing us to assess any requirement for an Occupational Health referral. Every employee is also obliged to inform us immediately if they are prescribed, or taking, any medication, so we can assess if they are safe to drive. Periodically we issue healthy lifestyle advice tailored specifically for our truck drivers. We continue to operate a zero-tolerance policy to drugs and alcohol. New employees are tested during their induction and we also carry out random drug and alcohol testing.
As would be expected of a quality company we have a high level of staff retention. Recruitment tends to be by referral from our existing employees who often 'recommend a friend' to apply. In addition to this, we are in an area with a large military presence and have over the last five years employed a total of six ex-Forces personnel and maintain a working relationship with local resettlement staff.
We continue to undertake noise assessments on our operations in accordance with HSE guidance and we remain well under the legal daily exposure limits. Drivers are issued with correct specified ear defenders and through our risk assessments and method statements we have reduced their exposure to noise significantly. The impact of noise pollution emanating from our depot is very much ameliorated by our location. The AQ Logistics depot is at the end of a private drive and surrounded by agricultural land, with our nearest neighbour 1Km away, as the crow flies. To further reduce noise levels within our garage workshop and the adjacent offices we have recently re-sited the air compressor, removing it from the building and locating it outside into a sound insulated cabinet.
Due to the last minute, spot hire and out of gauge nature of our work, we have no practical alternative transport mode available to us and are obliged to continue solely with road transport. We are, however, actively looked at alternative options for our vehicles including hybrid and full electric. We have recently conducted a review into updating our rigid trucks and considered the Scania hybrid offering. Lack of recharging infrastructure, along with increased payback times on the vehicle, meant that we disregard the truck as not viable for our operation. We have also test driven an all-electric 7.5t rigid truck at the Road Efficiency Live event and look forward to being an early adopter of new technology once suitable vehicles and infrastructure become available.
AQ Logistics are acutely aware of the impact our vehicles have on the public and the environment. Our vehicle choices are guided by our wish to decrease our impact on both. All our fleet is now Euro VI and we are continually looking to refresh with newer models. The wellbeing of our drivers is key to working towards reducing our road risk and ensuring the safety of vulnerable road users. We consider that the procurement of high specification vehicles improves driver ease of use and comfort and contributes to reducing road risks.
Since joining FORS we have actively promoted the scheme with other hauliers and have helped some of our sub-contractor partners gain their accreditations. All our vehicles and trailers prominently display the FORS logo, along with our email footers and website.
Accreditation demonstrates our commitment to the FORS ethos of quality, professionalism and continuous improvement. As customers increasingly demand higher levels of safety and performance we believe FORS gives us the competitive edge that is required to keep AQ Logistics at the forefront of our industry.
https://en-gb.facebook.com/pages/category/Cargo—Freight-Company/AQ-Logistics- 1579342982302031/