Ardent Hire Solutions Ltd was formed through a private equity merger between 2 family owned business, One Call Hire Ltd and Fork Rent Ltd in August 2015. A specialist in the supply of construction equipment rental machinery, we are one of the top 10 hire companies in the UK with a holding of over 5000 assets with an average age of under 18 months old. Operating from our Enfield depot enables us to service London and Home Counties.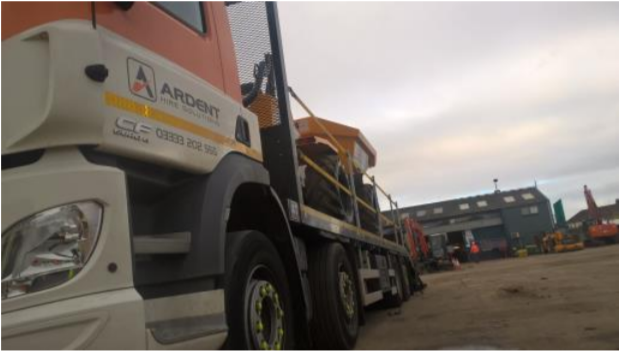 Garry Orr, SHEQ Director with 'O' Licence responsibility and ultimate control of FORS compliance, explains the benefits and importance of FORS within our business, "We have seen our Miles Per Gallon (MPG) improve along with year on year reductions in CO², particulate matter and NOx.
In the last 12 months we implemented a rigorous programme of vehicle replacement vehicles with Euro VI engines to reduce emissions. These are fitted with reverse cameras, monitors in cab, side scanners and white noise indicators as standard. Together with Driver Toolbox Talks (TBTs) we have seen significant reductions in incidents and Penalty Charge Notices (PCNs).
Our drivers appreciate how FORS systems have improved their own safety and that of more vulnerable road users as well as the environment. FORS has helped improve the profile and visibility of these issues and increase their priority when, just a few years ago, the only important issue was delivering our equipment.
FORS was brought to our attention by our blue chip client base early in 2011. At the time we were unaware of these standards but decided to take the plunge and become registered.
We became bronze certified in May 2011 and quickly realised that the certification was worthwhile in helping us win new work. However, of equal if not more importance, was the value delivered from having rigorous and robust transport management, quality and compliance, policy and procedures.
Benefits provided by FORS include formulated training and driver improvement plans by supplying the tools to continually improve our drivers' attitudes to compliance as well as updating their skills.
We were successful at our first bronze audit and though challenging, it proved that if you commit time and use the resources provided on the FORS website you will continue to improve all areas of your transport operation. The auditors are knowledgeable and if they see that you have tried your best to comply, they will assist and guide you in the areas you need to focus.
Ardent is committed to providing a safe working environment for all our employees and the FORS toolkits have helped us achieve this. We believe that one of the most important factors is upskilling our drivers by giving up to date, relevant training. As a result we have improved driver retention. Today our drivers are much more aware of the emphasis our business places on their safety.
When we became bronze certified we rigorously re-inforced processes so they became habitualised in our business before applying for silver. The toolkits supplied by FORS enabled us to record key information to reduce running costs by making our transport operation more efficient. In turn this helped us to reduce fuel costs and PCNs as well as improve routing efficiency.
As part of our journey to achieving certification we engaged the services of a driver licence check provider to ensure we are compliant with legislation. Our provider also notifies us of any driver infringements so that we can take appropriate action. This takes the form of a traffic light system which colour codes each driver. With up to 3 points a driver is checked twice annually, 4-8 points every 3 months, 9 points and above, monthly checks are carried out.
We now use telematics to provide MPG, emissions and distance travelled.
We recently contacted Fleet Source to provide all our driver training in relation to FORS and driver CPC.
"FORS provides us with the tools we need to continually improve our driver knowledge and increase safety awareness towards all vulnerable road users". Russell Pethurst, Depot Manager.
Safe Urban Driving (SUD) courses provided by Fleetsource are an excellent and informative way of looking at responsibilities of our drivers and vulnerable road users. The courses are delivered in an easy format and the practical part of the course helps the drivers understand traffic from a cyclist's or pedestrian's view.
We are advocates of e-learning which is now embraced in the business with courses due to be completed every 6 months. E-learning is an excellent tool for refreshing driver knowledge at regular intervals.
Our existing fleet is fitted with, side scanners and reverse cameras as standard. Again, this shows Ardent's commitment, not only to FORS, but also to our drivers and the seriousness of our intent towards safety in our business.
TBTs, downloaded from the FORS website, are a great communication tool. These prompt the driver to think more clearly in a more proactive manner particularly in relation to routing and idling. We utilise on board computers to track vehicles and set alerts that show if vehicles are idling for periods over 5 minutes This tool is then used to re-educate the driver so he does not idle needlessly. In turn this reduces our emissions and costs.
"PCN reductions across our fleet show that drivers' attitudes are changing towards how they perform daily tasks." Brian Mart, Driver Trainer
Once we were at bronze standard we took the decision to progress to silver because we wanted to see continued safety and efficiency improvements within our business. We are not a business to rest on our laurels and we wish to provide the best service we can provide to our client base. Being a silver certified business ensures our clients see us as a progressive safety based business by achieving standards higher than our peers. Although FORS is a voluntary based scheme, it offers excellent ways to improve the transport operation in any business.
When we became silver certified we noticed more and more businesses were displaying silver but not so many were displaying gold. This prompted us again to raise the bar in our sector, by becoming a gold certified member of FORS. There is a willingness by all members of our team to ensure compliance and it is refreshing that all colleagues wish to assist us in achieving gold status.
For the last 12 months we have been promoting FORS to all our hauliers and have introduced silver standard as a minimum requirement for them being a part of our supply chain. MPG Incidents per 100,000 Kms Number of PCNs Jan-Dec 2015 6.50 2.48 35 Jan-Dec 2016 6.81 2.29 19 Percentage improvement 4.5% 7% 54%

*Annual improvement in MPG and Incidents per 100,000 km A driver's 'fit for work' form is completed in line with FORS standards as well as the driver HGV medical check as dictated by licence requirements. During employment, drivers are required to inform the business immediately if they suffer from any medical illness that may affect their driving. This is stipulated in our employee handbook and employment contracts.
We have a recruitment policy as standard in our business. We also try to promote from within through promotion and progression. Usually this is employees from other areas in of the business including, yard-persons, fitters or team leaders. Weekly mails are issued to all group employees notifying them of vacant positions vacant within the business.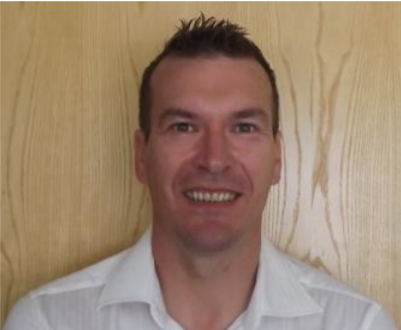 Even though our Enfield depot is strategically placed away from residential areas, all our units are fitted with white noise reverse alarms which, concentrates the alarm to those within direct vicinity. We have also introduced a new procedure whereby the washing of vehicles is undertaken on a Saturday given this is not normally a working day.
Where loading and unloading is carried out at a client's site, we arrive at pre-booked times so that we can assist the sites to reduce noise to their neighbours and other stakeholders.
Due to the size of our machinery, at present there are no viable options on the market to provide alternative fuel solutions that can handle the weights we deliver. Our fleet at present is Euro VI compliant which reduces our emissions in built up areas. We deal in heavy machinery with loads up to 60t, this restricts options to deliver by any other means of transport.
In the future, our next round of purchases will explore the alternative fuels market for HGV units, working closely with our preferred suppliers to assist them with their understanding of haulier needs. It is our intention to open new depots in London and South East which will reduce the number of miles travelled between jobs and our depot network. We have recently changed our livery that makes our units highly visible as well as providing additional reflective materials such as LED lighting, for example.
Our drivers will continue with ongoing training through the FORS toolkits that are available to us. E-learning is a key to updates as well as driver CPC training which will be tailor made to suit our business.
Becoming a FORS gold certified company will, for me, be a self-satisfying personal achievement. My initial thoughts on FORS were that is was another barrier in our already busy working lives. Since then I have been the main advocate of FORS in our business to ensure that safety and compliance are paramount. If my work can help protect our drivers' and vulnerable road users then, the time and effort will be more than worthwhile.
Ardent believes the gold standard clearly shows to all our peers and clients our stance regarding road safety not only in the workplace but by promoting further training for our drivers to make them not just a normal HGV driver but an HGV professional. Please contact me via Linkedin or email, garry.orr@ardenthire.com or garry.orr@outlook.com
Please note: All published FORS Gold case studies have been submitted by the accredited company named above and transcribed verbatim.