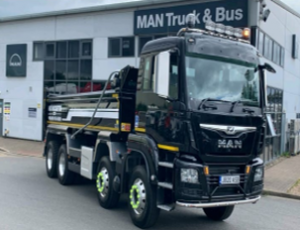 Section 1 – Introduction
ASB Transport Ltd is based in Warwickshire and provides 14 x 32-ton Euro 6 tippers to the quarrying industry, for the delivery of dry and coated aggregates within a 80-mile radius of our base.  Mr Avtar (John Singh Bahia Managing Director of ASB Transport Ltd explains how we have improved our business by being members of FORS, careful selection of vehicles has shown lowered fuel use in turn this has improved our emissions helping to protect the environment, for the type of industry I am in I can honestly say we do not face any fines and charges, as we do not go into London, however with Birmingham's LEZ coming into force soon this is something I have to mindful of, FORS has clearly shown through training how these can be avoided by carful route planning.
Section 2
FORS was not new to me as a business owner, I heard about FORS through the quarries I work in who promote the great work FORS has done and continues to do to reduce road risk to vulnerable road users and improve safety in construction, this is something I gladly buy into and promote anything that can be done to reduce risk.  I have been a FORS member for over 5 years and 2 of those years at Silver.
Section 3
Audits are not new to my business are we are continually audited by Tarmac / Aggregate Industries and GRS, however the FORS audit process had helped me personally to take a closer look at how we operate and what improvements can be made as a result of the process, we have improved all our Health & safety as a result of the audits.
Section 4
Since becoming FORS members we have benefitted from the great suite of learning that is available and free, the e-learning modules are educational and I believe has helped the business reduce accidents and incidents, therefore promoting the safety message in addition with the Lo-City module this has helped the drivers understand how small changes can help the environment for all.  I have attended and completed the Practitioner training which has been invaluable.
I looked at the fuel and emissions to see how we can improve these further and by ensuring all the drivers have done the Lo-City e-learning both for silver and the classroom course Going for Gold we have seen a better fuel return per vehicle in turn this has also reduced our emissions and operating costs to help this I now have system in place where there is one day driver and night driver per vehicle with minimal swapping around.
Being FORS Members has helped us improve in all areas of the Business

-Avtar (John) Singh Bahia MD
Section 6
Over the reporting period we have reduced our mileage in year 2 but were busier this was achieved by being smarter in our routing and planning we covered 133,622 kilometres over the fleet less than 2018 therefore improving our MPG and reducing emissions.
| | | | | | | | |
| --- | --- | --- | --- | --- | --- | --- | --- |
| | MPG | Incidents per 100,000 Kms | CO2 | NOx | PM10 | Number of PCNs | Proportion of fleet that uses alternative fuels |
| Year 2018 | 10.23 | 2 | 1,556,687 | 3,281.018 | 58.872 | 0 | 0% |
| Year 2019 | 11.66 | 1 | 1,251.538 | 2,537.858 | 48.136 | 0 | 0% |
| Percentage improvement | 14% | 100% | 20% | 23% | 18% | 0% | N/A |
Being dedicated to reducing road risk a big part of this is drivers fitness and health, we have a robust induction where we ask drivers to complete a health questionnaire all new and existing drivers are subject to drug and alcohol testing we have invested in all the correct approved equipment, additionally all drivers are subject to 6 monthly health questionnaires, and eyesight checks, we work with an Occupational health team and refer drivers as required.
Mr John Singh (MD) said: that having a better understanding of driver's health & fitness is benefit to everyone that comes into contact with our business.
We are committed to training new drivers and getting younger drivers into the haulage industry as part of this we are member of Nuneaton Chamber of Commerce and we have recently taken on an apprentice in the office as a Transport Administrator it is our aim to get him on all available courses, through the chamber we are also committed to the Armed Forces via their resettlement scheme and actively promote vacancies through this scheme, we believe that by becoming a FORS Gold member demonstrates our commitment to quality and training therefore attracting a better quality of driver who is committed.
I operate 3 model of vehicles Volvo, Scania and recently our first M.A.N as in the picture on page 1, my advisor and myself are both FORS Practitioners and we carried out our noise assessments across the whole fleet using the App demonstrated on the practitioners course, for our silver accreditation we looked at the basic requirements, however we also looked a little deeper into the vehicles other operations but none of the other items exceeded the engine noise, i.e. sheet operation engaging PTO closing doors. The vehicles are all equipped with automatic hydraulic tailgates, automatic sheeting (hydraulic) and we ensured all the external storage bins on the vehicles were of high-quality ABS plastic so there are no metal doors slamming shut.
The vehicles are all equipped with the standard manufacturer's noise suppressing systems and there have been no alteration to this equipment, I only use genuine parts to maintain the vehicles noise integrity.
Section 7
We are fully committed to reducing emissions and where we can move to alternative fuelled vehicles, however, this is a challenge for the type of vehicle we operate as it is rare we return to the same quarry, we need the commitment of all the quarries to build the infrastructure to allow heavy vehicles to recharge, interestingly a Swiss company has now developed a totally electric concrete mixer on a Volvo chassis this has 2 drive motors separating the PTO system from the drive system this vehicle is currently undergoing extensive trails I will be interested in the results.
Section 8
We take the opportunity to promote FORS at every level within our business and the wider tipper business, including through our suppliers from VRU equipment suppliers to vehicle dealers, by being Gold this clearly demonstrates our commitment and determination to improve the public's perception of the transport industry.
Section 9
For the business to achieve the Gold accreditation would be demonstrating the true commitment of the Directors, Drivers and support staff it will be a high point worthy of celebration in our goal to reduce emissions, reduce injury and harm to vulnerable road users and the wider public, improving safety in construction and ensuring all my staff and those who come into contact with them go home safely to their families and friends.
Summary
Avtar (John) Singh Bahia said: We are proud to be FORS members and actively promote the FORS safety message & standards with all our customers new and old, we do not pass any work onto any other companies unless they are a minimum of FORS bronze and where required silver, our e-mail footers, business cards letterheads and vehicles all display the FORS logo with pride.
Section 10
We do not have our own social media platforms as yet we are currently developing a website & facebook page.
*Please note: All published FORS Gold case studies have been submitted by the accredited company named above and transcribed verbatim