Balfour Beatty Track Partnership is part of the Balfour Beatty Group which was established over 100 years ago. It was set up in its current form in 2011, initially to service a project with London Underground and has seen its activity increase substantially in subsequent years. We have always taken pride in the way we approach our work, especially in ensuring we adopt a safe working environment in which our employees, particularly those involved in our transport operations, carry out their duties in a professional manner whilst taking account of internal and external factors including road driving risk.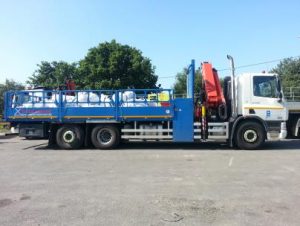 With this in mind training and vehicle procurement are tailored around ensuring drivers are fully conversant with the needs of our business and the industry as well as maximising fuel efficiencies through the purchase of Euro 6 vehicles to upgrade our fleet. With three years already as a Gold accredited operator Dean Previdi our Plant and Transport Supervisor has been keen to take stock of the company's progress towards FORS accreditation and what it continues to bring to the business. Dean reflects as follows.
We have always focused our activities to include a priority for safety on site and in the workplace and our contract work with London Underground has reinforced this commitment, including our progression through the FORS standards. From the beginning of the contract in 2011 through to achieving Bronze in 2013 and our first Gold accreditation in 2015 we have maximised the resources which FORS has offered over the years to consolidate our own high standards and help the business move forward.
"Our drivers are managed closely against key competence indicators linked to risk and road safety, especially with due regard for vulnerable road users." – Dean Previdi Plant and Transport Supervisor
To reinforce previous comments since joining the Scheme we feel that FORS has continued to support us as a company in what we are trying to achieve in our transport operations with the various training offered through both e-learning and CPC training workshops, in particular Safe Urban Driving which provides drivers with a vulnerable road user perspective. We feel this has improved knowledge of road safety and cycle safety, e-learning serves us to reinforce the message. The availability of the other e-learning modules including Lo City and the management of road risk through Smart Driving ensures that awareness is linked to their overall driving performance as well as its impact on the environment. Although the business is at a stage now where we are reviewing available resources in the light of business needs we will continue to make the most of the training that FORS offers and maximise their impact on positive improvements to our operation.  The workshops also provide good networking opportunities where our operatives can also share experiences and issues they encounter in their day to day work.
As our experience with FORS has developed we have created a strong team within Plant and Transport which is supportive of the aims of the Scheme and the current team is pictured below. I am joined there by Stewart Hunt, HGV Commercial Driver & Administrator, Hamoodur Rehman: Transport and Plant Administrator and Yosief Belai our Transport Co-ordinator alos closely involved with the project. The support of Gemma Heasman our appointed Transport Manager, and one of our FORS Practitioners, along with the Balfour Beatty Fleet Services Department, has also been integral in our progress. As a strategic objective we achieved Gold accreditation in 2015 and this helped us further in consolidating and developing the systems and processes that underpin FORS criteria.
"To our business FORS is seen as a valuable support mechanism to our HGV transport operations." – Dean Previdi Transport and Plant Supervisor
Over the past 12 months we have analysed our fuel use very closely. This combined with the majority of our fleet fitted with Euro 6 engines and our diesel now 100% drawn from our on- site bunker as well as adherence by drivers to our strict idling policies has seen an improvement in our miles per gallon performance as highlighted in the table below.
| | | | |
| --- | --- | --- | --- |
| | CO2 emissions | Accidents | PCNs |
| July 2016 – Jun 2017 | 249.00 | 12 | 24 |
| July 2017 – Jun 2018 | 175.00 | 5 | 2 |
| Percentage improvement | 28% | 58% | 92% |
Other areas of development within the business are:
As is Balfour Beatty Policy our "Permit to Drive" which assesses drivers throughout a risk based process which includes a 3 yearly assessment and an annual medical self-declaration with training, counselling or other appropriate support provided.
Our continued strong partnership working with Manpower to develop a strategy for recruiting new drivers which ensures they join a company which provides opportunities and progression.
Working closely with our drivers and providing briefings to assist in reducing noise pollution which benefits the safety of all and maximises the use of available technology including white noise silent reverse audio buzzers which are fitted to all our lorries
We continue to look for innovative ways for increasing transport of our railway products and materials transported by rail – currently at 15%.
Our business is planning a trial of a hydrogen cell vehicle on the M25 along with a long range hybrid which could potentially be used as a patrol vehicle for supervisors involved in managing operations.
Key performance indicators linked to risk and road safety are used to manage the performance of our drivers, especially with due regard for vulnerable road users. Training is planned for each driver, core and agency, following their induction in line with our "Track Partnership FORS, Work Related Road Risk, Vehicle & Driver Plan" which provides our strategy as we move forward towards excellence for all our operatives. In-cab telematics are used to identify any adverse impact on Co2 emissions linked to poor driver behaviour with FORS e-learning continuing to complement our progressive training arrangements.
FORS has become ingrained on the psyche of our business and we continue to aspire to the culture of continuous development for all our transport staff and drivers which are available through the Scheme.