Bevins Haulage is a specialist Hiab lifting business based in Egham, Surrey
Mark Bevin, Company Owner explains how FORS has spearheaded the introduction of initiatives that have assisted in the improvement of operational efficiency. The introduction of enhanced environmental mechanisms on the fleet has been welcomed and meets the strict ethos practiced at the business. We want to demonstrate that FORS Gold is achievable, acting as the benchmark for all in the Lifting Sector.
Introduction to FORS was through one of our valued clients, we operate in the strictly regulated lifting sector and FORS proved a natural progression for us ensuring that our safety first, environmentally friendly ethos continued to other parts of our business.
We planned from the start to become the benchmark for operators in our area and the specialised lifting sector at large. Our ethos is one of safety and efficiency so it was natural that this same ethos flowed to our logistics operation. We achieved FORS Bronze in 2013 and with the assistance of Fleet Development Ltd we achieved FORS Silver accreditation in 2014.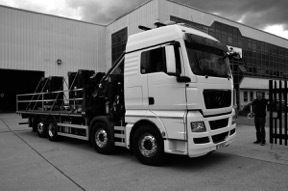 Our experience with the initial FORS Bronze assessment was positive, however we did not really know what to expect during the FORS assessment. We are pleased to say the guidance and support from the audit team was professional.
As an accredited FORS company our next step was to monitor and improve. We monitored our fuel usage, vehicle and driver performance and Sharon Collett, Operations Manager took the role of Fuel Champion.
We quickly established the need for an adjustment in vehicle capacity to enable more efficient operations, this has allowed us to reduce our environmental impact. We have procured the latest low engine emission and gearbox specification vehicle to assist in that process. We also specified a heavy duty long reach crane, this has meant we can transport and lift the difficult items from the same vehicle reducing the need for other vehicle to be involved in the lift operation.
" We're a specialist lifting company, our clients trust us to get it right"
As our vehicle had the latest safety equipment fitted we embarked upon a series of training focused on environmental efficiency measures and I have recently embarked upon FORS E-learning. A key issue that we have seen from FORS is the danger vulnerable road users face on our roads. FORS have strived to improve the relationships between vulnerable road users and vehicle operators resulting in a number of key initiatives being developed resulting in a greater overall understanding of road safety. We have taken full advantage of the vulnerable road users training provided by FORS and others.
"Our experience of FORS is positive"
FORS Gold adds to the professionalism that our company strives to achieve in everything we do. The FORS online information has allowed us to gain the knowledge required to minimise the risk of receiving PCN's and other driving infractions.