Blockade Services Ltd is based in South Godstone (Surrey). Founded in 2002 by Steve Burrows (Managing Director) with one tipper/grab, today the company boasts a fleet of 18 vehicles that are fully compliant with all FORS requirements. The company work in the construction sector supplying aggregates, soils and base materials to construction sites throughout the south-east including London.
Since becoming a FORS accredited operator, Blockade Services Ltd have seen improvements in our vehicle fuel consumption, road safety awareness through driver training and education as well reductions in insurance costs. Managing Director Steve Burrows explains how our continuing journey with FORS membership has supported the business by helping us achieve the highest possible standards.
We were initially introduced to FORS at the end of 2014 when we applied to tender for a large contract in Redhill. We were asked if we had FORS accreditation (which we hadn't) and following discussion were informed that to be a part of the tender process it would be necessary to register for FORS and gain FORS accreditation. We visited the FORS website and read up on what FORS entailed and how we had to go through the application process. Our understanding of what being a FORS accredited operator could mean for our company made applying a no-brainer.
Preparing for our Bronze audit was an interesting project to undertake and confirmed to us just how compliant Blockade Services Ltd was. On the day of the audit, we found the auditor to be very professional and Blockade Services Ltd passed at the first attempt, which encouraged us to look at the FORS Silver process.
Upon gaining FORS Bronze we looked at the benefits available to our driver workforce and the company generally and in particular the courses and training workshops that were available to our drivers and management team.
"Our understanding of what being a FORS accredited operator could mean for our company made applying a no-brainer." Steve Burrows (MD)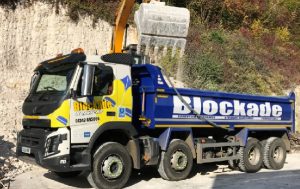 We have found that FORS has offered us the support process to enable us to be a more effective operator and helped endorse our ethos as a compliant operator in an industry that has a poor image in the eyes of the public. This prompted us to progress to FORS Silver and if successful to achieve the highest level possible and go for Gold.
Even before FORS we had maintained fuel data due to the low mpg returned from operating tipper/grab vehicles and a need for us to know what our vehicles were returning.
The additional data that we've since extracted by including CO2, NOX and Particulate Matter Emissions calculations into our data spreadsheets gives us a better understanding of the impact our operation has upon the environment.
As a small but growing operator, we acknowledged that it would be prudent to operate one marque and to continue replacing and updating our fleet during 2017 in this way.
Undertaking a fleet replacement program for a small operator is undoubtedly an expensive project. However, we are fully aware that in the long term, the benefits of doing so are considerable, most notably an improvement in fuel consumption and equally a reduction in the pollutants that Blockade Services Ltd puts into the environment through its operational activities. There are also the added benefits to our drivers as more modern, efficient and safer vehicles are added to the fleet.
The table below indicates the improvement made in fuel consumption since 2014. Thus far to the end of August 2017 the fleet is returning an average of 6.14 mpg, however, we anticipate that these figures will improve prior to year-end, as we continue with our fleet replacement program and update to a modern, more efficient vehicle fleet with the delivery of the remaining new vehicles.
| | | | |
| --- | --- | --- | --- |
| | 2014 | 2015 | 2016 |
| Vehicles | 12 | 14 | 17 |
| Average MPG | 5.74 | 6.07 | 6.16 |
| Percentage improvement | N/A | 17.39% | 1.48% |
Driver health and fitness review – we are introducing an annual review of our driver's health commencing in January 2018. This will include a health questionnaire to which we will give our drivers our support.
Strategy for recruiting drivers – based in an area where there are many other tipper operators there is always competition to retain drivers, especially where finding experienced drivers is extremely difficult in the current climate. We recognise that our drivers are a fundamental part of our business and subsequently we've recently introduced a significant pay award across the driver workforce, which also includes enhanced holiday pay.
Noise assessment – our vehicles leave our operating centre by 06:30 in an effort to avoid the local rush hour traffic and the 'school run' not only to minimise noise impact but equally to reduce emissions by reducing the time our vehicles spend caught up in traffic congestion.
Modal shift and alternative vehicles – we are considering the direct vision vehicles currently available and have looked at the Volvo direct vision tipper with a view to consideration for the future.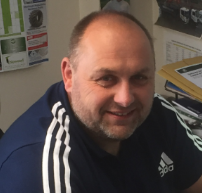 With the introduction of new vehicles we have installed 360 camera systems and with the first 4 vehicles now fully installed including a driver camera, upon delivery, the remaining 3 vehicles due to be delivered before November will also have this system installed.
Looking to the future, we will upgrade the remaining vehicles in the fleet with 360 cameras from their current forward, N/S and reverse camera systems.
Renewing our FORS Gold accreditation means a great deal to us as a company and would endorse the efforts of our management team and driver workforce.
Since our initial accreditation, we have seen many benefits which we anticipate will continue into the future and we look forward to the challenges ahead.
Please note: All published FORS Gold case studies have been submitted by the accredited company named above and transcribed verbatim