I set up Brian Doogue Haulage in 2003 with one transit van. Although it seems like ages ago we have expanded over the years and evolved into the current fleet of 8 vehicles, with another on the way, ranging from 32 Tonne low loaders to 2 x 150 Tonne Heavy Lorries (1 crane mounted). Operations are predominantly haulage of large plant and machinery to construction sites in and around London with some railway work for Network Rail. We also have a fleet of vans which are used to support these activities and have recently added an operating centre in Wembley additional to our site at the Gateway Service Area on the M1. My most senior driver Manus Lee who has been with me for over 10 years takes up the FORS story below.
"Our FORS journey has been an invaluable experience"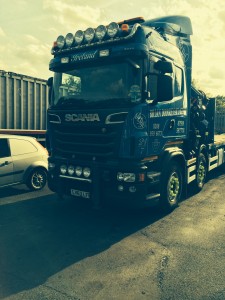 To be honest when we first learnt of FORS it was through work we were doing with Crossrail so it was really as a contractual requirement. However having been involved in the Scheme for over 3 years now we have learnt to appreciate it is far more than that and provides assurance to the business that we have the right policies and processes in place and it has been educational, particularly for our drivers. Since we achieved our original Bronze Certificate for meeting the Standard in May 2012 and saw it re-approved the following two years we achieved Silver last year and this has recently been confirmed again.
Over the past few years we have seen many of our local peers in the industry progress to Gold level and feel the time is right for us to follow in that direction.
During the FORS journey we have received considerable support from a local transport consultant, Paul Shea, who is also based on the Gateway Service area and continues to help us with areas that underpin FORS standards including the delivery of training such as Safe Urban Driving and analysis of tachograph records. He also works closely with the dedicated transport resource I have retained on that site with the planning and implementation of vehicle servicing and maintenance. Our journey has helped us to consolidate our good working practices and develop systems that ensure we continue to improve; where necessary the FORS website has provided invaluable support to clarify what is required and how it should be implemented. By working closely with Paul Shea, who is also a FORS practitioner, the Safe Urban Driver training he has delivered to all our drivers has provided valuable insight in to the challenges facing cyclists travelling through busy cities such as London. The Driver CPC workshops delivered also provide a platform for our operatives to network and communicate with drivers from other companies and exchange on the road experiences.
"Fuel savings can have a positive impact elsewhere in the business"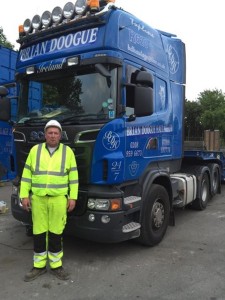 To achieve the Gold standard would be seen by the business as an acknowledgement of the hard work put in by all Doogue staff in ensuring the policies and processes underpinned by FORS are implemented rigorously and in a practical way. For me personally I'm not sure whether I would have been put forward as the fuel and emission champion without being involved in FORS.
This is giving me a strong sense of responsibility in ensuring fuel consumption is managed effectively. This not only has a bearing on our fuel emissions but also can have a major impact on our bottom line since with fuel being a high cost to the business any savings that can be made can potentially be used elsewhere to further improve the business. I look forward to being in a position to demonstrate a clear improvement over the coming months.