Having been a Gold accredited company for a year we have reflected on what has been achieved since obtaining this status.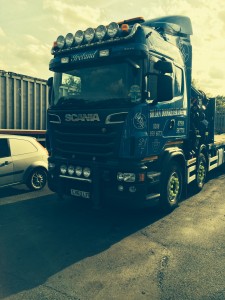 Over the past 12 months the company has continued to grow and the year has seen us invest heavily in FORS compliant equipment for our new specialist goods vehicles which we have added to our fleet.
We have now been FORS members for four years and as we inferred in last year's case study we found the journey through the different levels up to Gold standard a rewarding experience which we feel helped to underpin and act as a check on our own systems that are already in place – we would also add that we learnt a lot along the way, particularly in terms of increased awareness of safety needs whilst driving.
Our new state of the art workshop in Wembley provides us with appropriate facilities and suitably qualified staff to enable FORS/Crossrail specific safety features to be fitted to all our vehicles in-house.
"Our FORS journey has been an invaluable experience"
A growing feature of our work is related to heavy haulage track-side involving work for Network Rail. This heavily regulated activity requires annual accreditation and in this respect FORS with its focus on maintaining robust quality fleet management systems has certainly contributed to ensuring we were re-accredited in March this year for a further 12 months.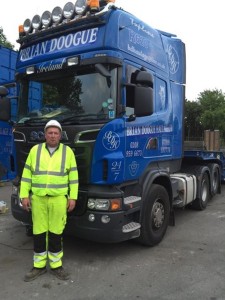 Training is another area where we feel we are strong with ongoing training and development for our driver not only for mandatory and regulatory requirements but also as part of our learning culture. We carry out regular toolbox talks on our premises which cover a range of topics relevant to drivers' daily work – e.g. "roadside prohibitions", and "use of banksmen, delivered in November last year and more recently "speed limit" in February and protective on-site uniform in March.
"Fuel savings can have a positive impact elsewhere in the business"
The quotes made in last year's case study by our Senior Driver Manus Lee, pictured against one our lorries and also our "fuel and emissions champion", would seem more appropriate than ever and have been retained in this document.
Going forward our next milestone is to secure our Bronze re-accreditation when it becomes due for renewal in August and we will continue to take full advantage of the helpful advice and guidance offered through the FORS website and other communications received through the Scheme