Brian Doogue Haulage has been trading for over 10 years in the heavy haulage industry based in Wembley. Senior driver –  Manus Lee explains how continued membership of FORS, and in particular having gained Gold accreditation, has ensured the high standards expected within our business are maintained, matching all our ambitions along the way.
"We first heard about the FORS scheme from another local operator who explained the benefits of being a member of FORS. As our contracts grew over the years , it became more beneficial for us to become FORS compliant in a short space of time in order to gain access to our customers sites. Since joining the scheme we realised being a member would help us gain further contracts from reputable companies, thus also continuing to provide an efficient service for our existing contracts.
Brian Doogue Haulage has always been an organised operation which passed the bronze audit first time in May 2012, prompting us to progress our FORS accreditation onto silver and subsequently gold, to build on the company's reputation as a quality operator putting us in the best position in the market to gain further contracts.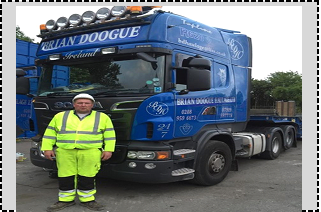 Once we became an accredited FORS bronze member, we took full advantage of the training and performance management tools on offer that helped us implement further improvements to our systems of work to constantly improve efficiency of our operation.
Since joining the scheme 5 years ago we have felt that FORS has equipped us as a company to continue our work in the heavy haulage industry, a growing feature of our work is related to heavy haulage trackside involving work for network rail. This heavily regulated activity requires annual accreditation and in this respect FORS with its focus on maintaining robust quality fleet management has contributed to ensuring we continue our work on such contracts.
Since our first FORS bronze accreditation in May 2012, we saw the benefits as a company to becoming a member and access to further contracts which opened an opportunity for growth and investment into our fleet. In addition to this we found the training and management tools on offer through FORS beneficial to the operation, promoting road safety and environment awareness to our drivers through the e-learning modules and safe urban driving workshops. We can confirm 100% of our drivers participation and feel confident that with the assistance of FORS we have put in place appropriate safeguards which ensure the safety of other road users as well as ensuring our operatives welfare is maximised
Whilst our volume of work is increasing with a corresponding increase in our fleet, from 7 to 12 vehicles, the number of accidents and moving traffic fines have remained low and we proud to have 0% PCN fines  as highlighted in the table below.
| | | | |
| --- | --- | --- | --- |
| | Number of Vehicles | Moving Traffic fines | Number of PCNs |
| May 2015 – April 2016 |              7 |              3 |                0 |
| May 2016 – May 2017 |             12 |              2 |                0 |
| Percentage improvement |             42%  vehicle increase |              33%      improvement |                – |
We will be continuing to update our fleet with more Euro V1 vehicles and continuing to improve on the way monitor our drivers health and fitness with an appointed member of staff to proactively engage in monitoring and reviewing this area.
 We are proud to be a Gold member of a scheme that continues to evolve, supports its operators in moving forward and setting standards in road safety , environmental awareness and fuel efficiency whilst giving a good all round reputation of our company to our current and prospective contracts. Going forward we will ensure that we embrace the benefits of FORS to continue to progress our knowledge and development of our staff in improving road safety across London and the UKs road network."
Please note: All published FORS Gold case studies have been submitted by the accredited company named above and transcribed verbatim