B S Haulage Contractors LTD is a small family run business which has been operating for 12 Years. The company is based in Purfleet as a Sub contractor to Aggregate Industries, delivering Asphalt and aggregates across London and the South East of England. When transport manager (Bhapinder Rai) was initially introduced to the FORS in 2013 he knew instantly that this was something that would bring the haulage industry up to a whole new level of standard.
"I had a feeling that construction sites and new projects within London would ask for FORS only vehicles on their sites. This would then provide a much safer working environment within any contract site". Becoming a FORS member was not only for contractual reasons but was for making the roads a lot safer whilst trying to minimise our carbon footprint".
"Initially started in London I am not Surprised that the FORS has now spread across the country"
The first thing we done to meet the FORS criteria was to make changes to our vehicle. New features were added like:
Side under run bars
Left turning warning audible speaker
Side proximity sensors
Passenger side Fresnel lens
Warning stickers to the side and rear of vehicle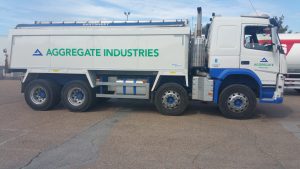 Already we could see benefits of this as the vehicle was safer for vulnerable road users.
Our first bronze assessment was in 2013 in which we passed with a 100% mark. This gave us a great a deal of satisfaction as we already had good systems and procedures in place. I felt however that there was so much more that the FORS could offer so I decided to attend the FORS practitioner course. I found the classes very helpful and would recommend them to anyone wanting to gain further knowledge about the FORS and what it aims to achieve. The course tutors were really helpful too, they had a lot of knowledge within the Haulage industry and all questions were answered in detail. The classes are designed to be interactive with everyone finding it easy to participate. The practitioner courses also gave me an insight on how to progress to Silver & Gold standard.
As a company, we have found the Freight Operator Recognition scheme to be really helpful in providing the tools for companies to progress. These can be found easily on the FORS website. The Safe Urban driving and Staying legal courses were extremely beneficial in helping us improve safety within our business, as well as the online driver training which gave us extra training for our staff.
Since joining the FORS we as a company have greatly benefited from more contracts as more and more construction companies are asking for FORS only vehicles on their sites.  This has led to an increase in revenue whilst keeping London's roads safer. We have also improved our fuel consumption greatly. A tracking system on our vehicle will inform us of vehicle idling which I feel is one of the main causes of pollution in the city. Currently we receive alerts for vehicles idling for five minutes however, we are looking to reduce this to three minutes. Also, having a tracking system in place means we can route the vehicle to take certain routes avoiding cycle hotspots and schools at peak times. Using the trackers also means less fuel is wasted by vehicles taking wrong turnings.
Achieving gold FORS standard would mean BS Haulage Contractors would continue to try to improve on fuel consumption whilst trying to make the roads safer for vulnerable road users. This would be achieved by keeping up to date with vehicle improvements as well as telematics. We would continue to work with the FORS to reduce our carbon footprint whilst I also feel achieving gold would give other small businesses to confidence to achieve this standard.
| | |
| --- | --- |
|   | MPG        |
| Oct 2014 – Sep 2015 | 7.63 |
| Oct 2015 – Sep 2016 | 8.43 |
| Percentage improvement | 10.48% |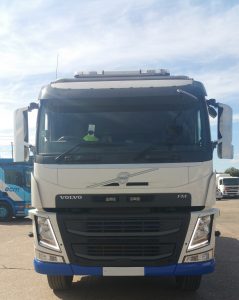 "FORS has encouraged and supported our progression through the FORS levels, and we are proud to be one of the smallest companies to be awarded FORS gold status. However, our journey does not end here, as it's all about continual improvement and ensuring we remain proactive in implementing best practice and developing our drivers. "
"The FORS scheme is of great value to any freight business operating in London, or anywhere else, come to that, FORS gold status is achievable for any business, big or small. We encourage all small businesses to achieve FORS gold. "
 Please note: All published FORS Gold case studies have been submitted by the accredited company named above and transcribed verbatim