Bywaters (Leyton) Ltd was established in 1952 and has always been based in East London, with depots now at Bow and Leyton. Bywaters has been a leading recycling and resource management company from 1952 until the present day.
Experience and expertise has allowed us to develop recycling and resource management solutions for a wide range of sectors including the commercial, industrial, construction, health and municipal fields.
Mohamed Abdurahim, Logistics Support Manager, explains the benefits of using the Cycle Confident/FORS Safe Urban Driving course's to improve driver's awareness of cyclists and other vulnerable road users.

Safety remains top of our priority list, Bywaters is working in partnership with "Cycle Confident" (courses funded by Local Boroughs) to ensure all our drivers complete "Safer Urban Driving" courses, we have also invested heavily in vehicle safety systems such as the left turn audible alarms and side sensors as well as 360 degree cameras. Footage from the cameras has been used as part of training and learning during tool-box talks, with the transport group meeting fortnightly to give the drivers an opportunity to discuss improvements that can be made.
Bywaters are UKAS accredited (Testing Laboratory No. 1931 & Inspection Body No. 0173), LRQA audited and qualified, UVDB registered and certified to ISO 14001:2004 (LRQ4001786), ISO 9001:2008 (LRQ 4006594), OHSAS 18001:2007 (LRQ 1000621)
"Bywaters has a 360° view on Safety"
Our drivers have been able to fully appreciate the benefits of having a better understanding of other road users, in particular, cyclists. A majority of our drivers have reported that they are consciously more aware of vulnerable road users now, and give them extra consideration and empathy.
We have extended the safe urban awareness courses by working closely with the local council training scheme and are now offering the course to other external companies who are working towards improved road safety. We are showing the commitment to operating to FORS Gold standard, as we are using these opportunities to further advertise the benefits of being on the scheme.
It is now an essential part of Bywaters Ltd training plan, that our drivers complete the Safe Urban Driving course before being permitted to use a vehicle, and then refresh their Safe Urban Driving course every 3 years. This ensures we continue to improve our driver awareness to vulnerable road users. Bywaters Ltd also utilise the FORS e-learning modules as initial training within the first 6 months of employment, and as refresher training every 12 months.
"MRF harvests energy from the heart of the sun".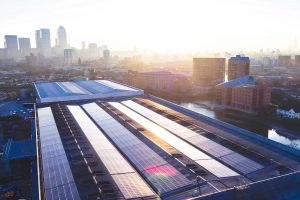 Bywaters recently completed the largest solar panel array fitted to an existing London building at its MRF in the east of the city.
The installation of solar PV will stabilise our energy supply and reduce carbon emissions and energy costs by around 45%. The investment is also an important demonstration of our commitment to developing a sustainable business and improving environmental performance. The array will save around 320 tonnes of C02 emissions a year and the output is equivalent to powering 237 homes for the same period. The installation is estimated to generate 857 Megawatt hours per annum. That equates to having 897,000 one bar electric fires running for an hour.