Bywaters (Leyton) Ltd was established in 1952 and has always been based in East London, with depots now at Bow and Leyton. Bywaters has been a leading recycling and resource management company from 1952 until the present day.
Experience and expertise has allowed us to develop recycling and resource management solutions for a wide range of sectors including the commercial, industrial, construction, health and municipal fields.
Mohamed Abdurahim explains how Bywaters not only meets contractual requirements but also raises awareness of road safety and environmental matters on a routine basis. In 2015 fuel efficiency and ongoing reduction of emissions are core standards.
FORS is recognised across the industry as an essential standard for all fleet operators planning to set a benchmark amongst their peers. Bywaters joined because it wanted to lead the field in terms of safety, environmental and quality performance, whilst meeting the increasingly stringent standards for Inner City work. In line with its commitment to continuous improvement, Bywaters is consistently seeking ways to minimise its impact on the environment and so remain at the forefront of the industry in terms of safety and quality standards. It is through FORS that we intend to consolidate our efforts and serve the industry to the best of our capabilities.'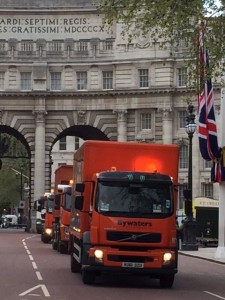 Bywaters is quite familiar with external assessments for our management systems. It was great to be pleasantly surprised at the level of support and assistance provided through the FORS assessment. Throughout, we felt the process was targeted at helping us to get it right, and working with us to identify improvements to our existing systems. The assistance and guidance provided enabled us to be one of the first companies to meet the bronze standard.
"Bywaters has a 360° view of the market"
One of the key have seen from FORS is that of raised awareness for our industry standards. The training that our drivers have undertaken has resulted in a greater overall understanding of road safety and a highly collaborative approach towards other road users; particularly the co-existence of commercial vehicles and cyclists.
One of the key benefits that we have seen from FORS is the heightened awareness standards. Drivers have been given the specific safety training they need and created a safer culture for more vulnerable road users.
"Teamwork makes the Dream work"
Over the last year and a half we have used the FORS standards and requirements to continually improve our performance and the professional standard of our drivers. Our new training package increases driver awareness of safety minimises the risk of accidents whilst out on the road. Now we have new projects to install cameras in the cab including a third party incident management company monitoring the footage, so that we can immediately respond to incidents. We have worked in conjunction with an accredited training company to be certified to the JAUPT standard. This will allow Bywaters to complete CPC training within the Company. By raising awareness and increasing our incident investigation capabilities, we are aiming to achieve a reduction of 50% of accidents and incidents this year. However, moving forward can mean that more incidents will be reported due to the increased awareness and improved reporting procedures. Our realistic work with FORS, and an increase to our trained workforce (over 100 new staff) is being closely monitored to ensure that incidents are minimised. Despite increased awareness all around we are are confident that we are taking the right to lower accident frequencies and we are still on course to achieve our target.
| | | |
| --- | --- | --- |
| | Accidents/Incidents | Accident Frequency |
| Jan-Dec 2013 | 214 | 5.64 |
| Jan-Dec 2014 | 170 | 3.85 |
| Jan-Jun 2015 | 77 |  4.27 |
Annual improvement in MPG and Incidents per 100,000 Kms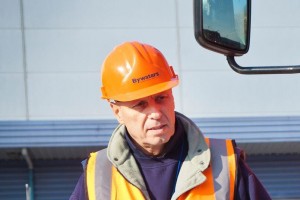 In conclusion, Bywaters takes pride in being recognised as a FORS Silver Company. This ensures that we are striving to work to the high levels of expectation that our customers require. Following on from this standard, we are encouraging our sub-contractors to reach the same levels, to be able to provide a similar service. This allows us to be seen at the forefront of the Industry and to satisfy our customer requirements whilst maintaining a safe and safer work place environment.