Bywaters (Leyton) Ltd was established in 1952 and, based in East London, now has depots in both Bow and Leyton. A family run business, Bywaters has been a leading recycling and resource management company since 1952 and, with over 70 years of experience, has an exceptional understanding of the industry. This experience and expertise has allowed us to develop recycling and resource management solutions for a wide range of sectors including the commercial, industrial, construction, health and municipal fields and we are now seen as one of the leaders in our field. That said, competition is fierce, especially in the UK's Capital City, and Bywaters identified a need to demonstrate a commitment to continual improvement in Safety, Efficiencies and Environmental aspects which ultimately benefits our Customers, as well as the business. This is where FORS came in. As a recognised standard across the industry Bywaters set out to achieve the FORS Gold and set a benchmark amongst our peers. The guarantee of best practice, which comes with the FORS accreditation, has enabled us to strengthen our business relationships and increase customer loyalty.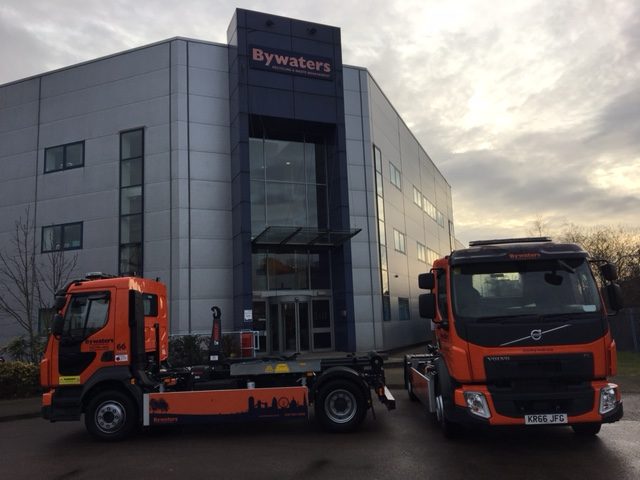 In addition, FORS has helped us to develop and improve our road transport and assists us in meeting the increasingly stringent standards for Inner City work. Bywaters is consistently seeking ways to minimise its impact on the environment and remain at the forefront of the industry in terms of safety and quality standards. It is through FORS that we intend to consolidate our efforts and serve the industry to the highest standards achievable and we have noted some of our ongoing initiatives below to demonstrate how we aim to achieve this.
Bywaters works with local authorities to deliver community projects in the interests of health and safety. As an example, through our affiliation with Walthamstow's Changing Places programme, we are able to go to schools to educate students on cycle safety. Staff and students are encouraged to climb into the dustcart cabin and see things from the driver's perspective; most notably the lack of visibility that these vehicles have as standard (i.e. without the advanced systems that we have in place); and understand how they can improve their actions on the road to safely interact with others. We really enjoy supporting London's vibrant communities and encourage all of our staff to identify opportunities to share best practice with institutions and businesses wherever possible.
The health and well-being of all of our employees is a high priority at Bywaters and especially our drivers who are key in their day to day customer facing and safety critical role. Our company policies and procedures state that, on staff induction, each individual must undergo a driver medical questionnaire and sign a health declaration which would allow the company full access to the individual medical history. All Staff, with a long term medical condition, which could affect their driving/work ability, can be referred to our occupational health consultant.  Bywaters also encourages its staff to discuss any medical, personal or mental health issues with management in the strictest confidence.
Bywaters are working in partnership with Tranztacho, a leading provider of driver management software, to develop a bespoke eLearning platform: "Knowledge, Awareness, Training and Education", or "K.A.T.E". All of our Drivers and Driver-Assistants have a profile created which is then uploaded onto the platform. Whenever training is undertaken it is recorded electronically onto the individual's profile and this helps us to easily identify where they are in their induction and/or training program. The system also supports our ongoing training with a selection of training videos, specific to the individual's needs, being allocated to their profiles, including: Vehicle walk around checks; Cycle Awareness; Rear-end Swing; Tachograph training and Wheel indicators.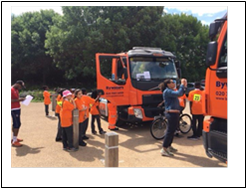 Our investment in Fleet-Check gives us enhanced transparency of all driver and vehicle activity. The platform allows us to view information on our fleet in real-time and maximises management. Using this platform, our Transport Team has complete visibility on vehicle records and access to detailed staff records, CPC training and licence expirations. The Fleet Check acts as a back-up system, helping us cover all bases and ensure that all our staff and vehicles are operating legally, efficiently and safely.
Strategy for recruiting drivers: The Company is now using a specialist driver agency to ensure that we employ drivers who fulfil our required criteria and have undergone extensive training. We are also reviewing the options of using an agency that specialise in relocating ex-army personnel back into civilian life, we currently have a number of drivers who have been recruited via this process.
Noise assessment: The Company takes its responsibilities to the environment and its neighbours seriously, and regularly reviews the impacts of the operation.  Following feedback we reviewed our jet wash procedure and have now relocated the wash area, to a more enclosed area, where the noise is shielded by the building and does not travel to the neighbour's property.
Modal Shift and alternative vehicles: Recent press has shown that changes in fuel usage and allowable vehicles should be considered over the next decade. Bywaters is already investigating the use of alternative fuel to improve our environmental emissions and are looking at the potential use of electric and/or LPG powered vehicles.
In summary, Bywaters and the dedicated and committed team of staff who work for the company, always aspire to be the best they can be and truly look for more efficient, environmentally friendly and safe ways of working to keep the company ahead of the field.
Please note: All published FORS Gold case studies have been submitted by the accredited company named above and transcribed verbatim.