Callagh Haulage Ltd are based in Hertfordshire and operate three 32 tonne tippers as sub-contract core fleet for Tarmac Ltd. We employ four drivers and undertake day and night work for Tarmac's southern region.
My name is Sarah Carr, I am Director and Transport Manager for Callagh Haulage and we became FORS Bronze accredited in March 2013.  It has undoubtedly been a forward and positive 'journey' since our original bronze accreditation as we gained Silver at the first attempt in September 2015 and became Gold accredited in May 2016.
Myself and our lead driver/manager Callum Ewen gained FORS Practitioner certification in late 2015 and the FORS Practitioner workshops have given us the tools to focus on the important elements of road safety along with key management aspects of sustainability and environmental awareness.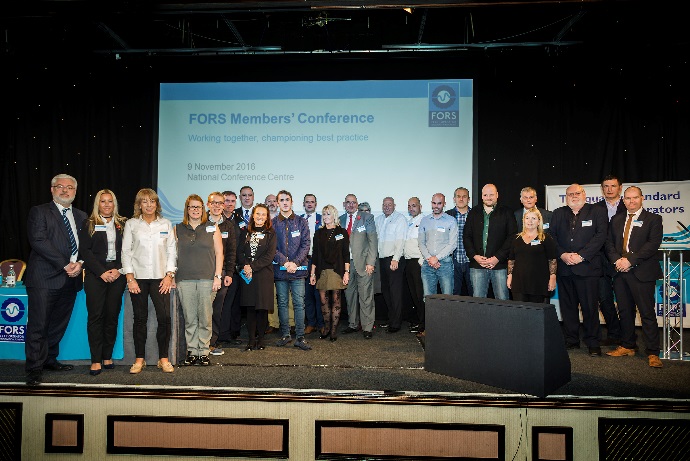 The wellbeing of our drivers is crucially connected to the safety of vulnerable road users and by decreasing our work related road risk we can actively participate in making our roads safer.  We work hard to promote high driving standards and we've used the training offered by FORS to ensure that our drivers benefit from a full, progressive and comprehensive training programme.
'Our continued journey and commitment to road safety has been helped enormously by the Fleet Operator Recognition Scheme'
The benefits of our FORS membership continue and in November 2016 I attended the FORS Conference in Birmingham.
The whole day was full of interesting presentations and exhibitors, a good indicator of what lies ahead and the higher standards we should be aiming for.  With a large degree of delegate participation encouraged I would definitely recommend everyone to attend the next one
In addition to our driver's successful completion of FORS Safe Urban Driving and Staying Legal courses, we have found FORS E-learning to be a valuable tool which drivers and managers can use by themselves or as part of a group. We've also used FORS E-learning in coordination with the toolbox talks that we carry out with our drivers.
In 2015 we installed a tracker and telematics system in our vehicles and this has enabled us to observe our performance in various areas of compliance.  With the full co-operation of our drivers we've been able to monitor fuel consumption, speeding, braking, acceleration and idling.  Since our stated figures in the 2016 Gold case study, we have seen the driver compliance scores improve and we aim to maintain these scores at the positive 97% – 100% levels we have achieved.
In 2015, our tyre suppliers were contracted to visit and make monthly inspections.  Tyres are assessed for their condition, pressures are checked and issues are rectified usually on the same day of inspection.  This has resulted in zero negative encounters on the road and we are able to maximise the life of our tyres without compromising safety.  As a result, we are able to report reduced costs and in addition a positive result for the environment. In February 2017, we took delivery of our new Euro V1 Volvo FMX which we'd specified with a Vision Window in the near side door.  We also fitted JB Downlights to create the 'safe zone' around the truck in low visibility.
An additional benefit of the down-lighting system is that not only does it make the vulnerable road user aware of the vehicle's presence and its manoeuvres, but when working on construction sites this system also promotes the Tarmac 5 + 2 exclusion zone methodology of consistently seeking a clear area around a large vehicle.  Importantly, our drivers report that they find the lights to be an aid on night work particularly at junctions where the lights flash in conjunction with the indicator.
Our two other vehicles are 2013 and 2014 Euro V trucks.  The 2013 vehicle is scheduled for replacement with Euro V1 in early 2018. Wherever possible we have used the information gained through FORS and have chosen safety systems and technology to reduce our work related road risk as much as possible. Our vehicles all have cameras to Tarmac specifications with in-cab monitors, reducing blind spots and aiding manoeuvring, lane departure warning systems, audible warning side scan detection and side impact guard rails.  Our vehicles are also fitted with Tank-Safe anti-spill diesel caps for cyclist and motor cyclist safety and overhead wire detection to protect against the risks posed to tipper vehicles.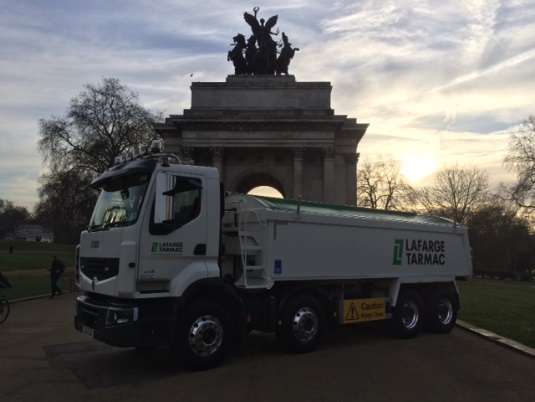 In March 2015, we used one of our Lafarge Tarmac liveried vehicles in the 'Exchanging Places' campaign that took place at Marble Arch, demonstrating the truck safety systems and discussing FORS with cyclists. This event allowed people to sit in the driver's seat of an HGV or bus to get a better understanding of what the driver can and can't see, especially in regards to cyclists on the nearside and directly in front of the vehicle.
Our commitment to road safety and environmental awareness continues using the FORS tools available and we work to promote and encourage our suppliers and associates to join FORS. As members we've improved our fleet and driver performance and we are strongly committed to this.  Additionally, by being a CLOCS Champion it demonstrates to our drivers, clients and suppliers our ongoing and further commitment to road safety.
Increasingly we're involved in projects that require higher standards of safety and environmental awareness and our Gold accreditation has given us access to additional work which is an added bonus. By achieving the FORS Gold re-accreditation it will demonstrate to our staff, clients and competitors the strength and successful progress of the company along with our continued commitment to the FORS standard and road safety.
Please note: All published FORS Gold case studies have been submitted by the accredited company named above and transcribed verbatim