Our commitment to safely sharing roads and improving driver and vehicle safety
Based in Hertfordshire, Callagh Haulage is a contracted core fleet haulier for Tarmac Limited. We have three 32 tonne tippers and employ four full-time and two part-time drivers to provide the day and night working that Tarmac have contracted us to carry out.
As contractually required by Tarmac, Callagh Haulage started their FORS journey by becoming Bronze accredited in March 2013. Following successful Lafarge Tarmac annual audits in 2014 and 2015 in September 2015, we decided to take the next step and became Silver accredited.
Our journey and commitment to road safety has been helped enormously by the Fleet Operator Recognition Scheme.
The FORS workshops available to both management and drivers have given us the tools to focus on the important elements of road safety plus the additional key management aspects of sustainability and environmental awareness.
Callagh Haulage ensures that training and welfare are a prime consideration, with their drivers making use of E learning and regular attendance at FORS and other industry training workshops. Sarah Carr (Director) and lead driver Callum Ewen both completed the FORS Practitioner workshops in September and December 2015 respectively and the training continues to be of real benefit to the company.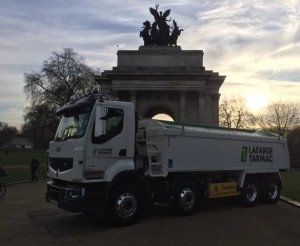 We believe that a drivers' welfare and wellbeing is crucially connected to the safety of Vulnerable Road Users and the management and decrease of work related road risk. There
has been an increased awareness of FORS and our drivers actively seek to promote this using compliance, vehicle presentation and safe driving. Additionally, by being a CLOCS Champion it demonstrates to our drivers, clients and suppliers our ongoing and further commitment to road safety.
As a matter of process we automatically tell our suppliers why we have asked for a particular service, how it is intrinsically linked with road safety, environmental sustainability and how it will enable us to support the progressive requirements of the FORS and CLOCS standard.
Our vehicles were installed with telematics in 2015 and with full co-operation from our drivers has resulted in improved fuel economy and driver speed compliance. The use of camera footage and telematics information that monitors speeding, idling, braking and acceleration has seen the drivers' daily scores rise from 88% to an average of 97% per cent positive compliance over the past 6 months
Following a FORS workshop suggestion, in July 2015 our tyre supplier was contracted to make regular inspections, check tyre pressures and report any issues. The true results will become more apparent when a full year since installation of our tyre scheme is complete.
In addition to our goal of being a successful and profitable haulage business, we have focused on how technology can help us improve our road safety. With careful balance, we have chosen vehicles and safety systems that minimise our work related road safety risk, protecting the vulnerable road user groups and also ensuring the welfare of our driving staff when and wherever possible.
The safety equipment fitted to our vehicles include cameras with in-cab monitors that reduce blind spots and
aid visibility when reversing and manoeuvring; a lane departure warning system; side scan detection with audible warnings and side impact guards/rails. These safety systems have definitely provided our drivers with extra visibility while also providing a less stressful driving environment.
Our vehicles were replaced in May 2013 and August 2014 with Euro 5, and the additional equipment added to our standard specification are: Tank-Safe anti-spill diesel caps for cyclist and motor cyclist safety and overhead wire detection to protect against the risks posed to tipper vehicles.
Callagh Haulage are investing in Euro 6 and our new vehicle has been specified with a Vision Window, which will be a standard feature on all future fleet replacement. In addition to the above equipment and specifications, Callagh Haulage has continued their investment in technology and systems that maximise our road safety.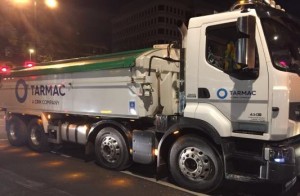 In December 2015, Callagh Haulage decided to trial a new vehicle down-lighting system that lights up an area around the vehicle. This lit area denotes and marks out the unsafe area around the vehicle and additionally highlights the vulnerable road user close to the truck. These can be set permanently on, at slow speed and flashing when the vehicle is turning.
An additional benefit of the down-lighting system is that not only does it make the vulnerable road user aware of the vehicle's presence and its manoeuvres, but when working on construction sites this system also promotes the Tarmac 5 + 2 exclusion zone methodology, consistently seeking a clear area around a large vehicle.
A positive response has been received from other operators and drivers plus the lights have proved so far to be trouble free and unaffected by harsh quarry environments. The new Euro 6 vehicle for 2016 will be specified with this safety system in addition to the vision door panel mentioned earlier.
As part of ongoing investment and promoting safer roads for all, Callagh Haulage will continue to invest in training and truck technology. We hope that this and our safe systems of working will improve the overall work related road risk safety performance and driver retention which benefits the company and other road users.
In March 2015, Callagh Haulage used one of their Lafarge Tarmac liveried vehicles in the 'Exchanging Places' campaign that took place at Marble Arch, demonstrating the truck safety systems and discussing FORS with cyclists. This event allowed people to sit in the driver's seat of an HGV or bus to get a better understanding of what the driver can and can't see, especially in regards to cyclists on the nearside and directly in front of the vehicle.
To achieve FORS Gold accreditation will show our staff, colleagues and customers our continued commitment to road safety. Wherever there is a feasible solution Callagh Haulage is clear in our determination to minimise road risk, protect our drivers and the vulnerable road user.