Situated in the heart of central and inner London, covering an area of 22 km2, Camden Council provides local government services for 212,000 people and is one of the 32 London boroughs, along with the City of London. The borough has several commercial and business centres with the second highest number of businesses in London, alongside many cosmopolitan areas with varied cultural and tourist attractions and 4 km2 of green space.
 My name is Josephine Allman, Head of Camden Accessible Travel Solutions. I have the overall responsibility for the compliance of drivers and vehicles, including a fleet of circa 280 road vehicles and over 100 other powered machines, including mobility scooters.
"We are Proud to be affiliated with FORS and will endeavor to encourage other to join"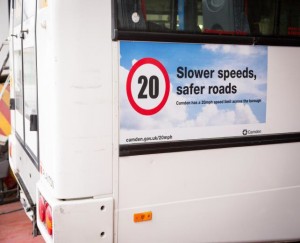 Improving road safety and minimising environmental impact have been key priorities for us for some time, as demonstrated by our  Camden Plan, Transport Strategy and Green Action for Change  (environmental sustainability plan). Therefore being FORS accredited was a logical step to demonstrate the best practice and efficiency of our operation. The completion of the FORS accreditation process was largely due to the joint efforts of officers across the Council, namely Richard Clarke, Fleet and Depot
Manager and Jessica Wiles, Cycle Safety Project and Contracts Officer. Both parties brought valuable skills, insight and creativity to the process. FORS has been a catalyst in helping Camden to deliver a range of improvements. The scheme helps us to achieve our strategic priorities and is supported by senior leadership at the Council, who have encouraged our efforts towards attaining Gold accreditation. This high level support is key in ensuring that our FORS work and projects can be developed and are successful. For example, at silver level, we strived to go "The Extra Mile"; to ensure we remain leaders within the London boroughs.
We have hosted FORS workshops and Safe Urban Driving courses and have participated in developing courses to maximise the knowledge of our diverse driving workforce. One of our new initiatives is to facilitate the use of bio-methane vehicles within our fleet from CO2 negative source and encourage the gradual reduction of diesel from Camden's fleet.
As a large organisation with many different departments operating vehicles, achieving bronze status was a challenge; however we passed first time and found the audit process to be helpful and relatively straightforward. This process helped us to evaluate our policies and procedures and work towards best practice, including developing a new Occupational Road Risk Policy.
Once we had attained bronze however we were ready for the next FORS challenge. Hence, we achieved FORS silver within four months. Having FORS as our common goal has helped us work collaboratively and deliver a more efficient service. We have combined our efforts to achieve for with a Systems Thinking review of our fleet and transport operations, involving front line staff throughout the process. We have evaluated our various processes, from vehicle procurement, to driver assessments, eye sight checks, collision reporting, and insurance claims and improved our approach.
"The London Borough of Camden is committed to greener travel solution and endeavors to be at the forefront of change"
Our work related road risk policy requires our contractors to also meet the requirements aligned to FORS silver. Being FORS accredited ourselves not only ensures we lead by example, but has helped us to support our contractors. We are also a champion of the Construction Logistics and Cycle Safety (CLOCS) standard and have stipulated this as a planning requirement for private developments in the borough.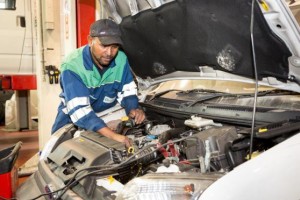 To further address congestion, air pollution and noise, we lead the multi-Borough freight consolidation scheme. The pilot project focused on consolidating Council deliveries in Camden, Enfield, Islington and Waltham Forest which resulted in a 46% reduction in the number of vehicle trips and 45% reduction in kilometres travelled from freight vehicles delivering goods to over 300 buildings, covering 10% of London's geography. The scheme has been approved to continue on a long term basis and will continue to work with local businesses and other organisations to consolidate their freight activity. Camden Council won the title 'Contribution to Sustainable Transport' at the 2016 London Transport Awards for this project, and won the Borough of the Year award.
One improvement as a result of our FORS work has been a stabilisation in our fleet's CO2 output per mile. This is set to decrease significantly as our green initiatives develop.
| | |
| --- | --- |
| Year | Kg CO2 per mile |
| 2013 / 2014 | 2.17 |
| 2014 / 2015 | 2.14 |
In conclusion, we are proud to have achieved FORS Gold and to join a group of like- minded companies and Local Authorities that lead the way in improving industry standards. The benefits gained from FORS, including greater road safety; reduced carbon emissions; better training and overall awareness will pave the way to a safer and more sustainable future. We are committed to continual improvement and aim to lead from the front to promote the FORS standard and encourage other companies to work collaboratively and also adopt FORS. Attaining Gold is the start of the journey, maintaining Gold is our destination.