CEMEX is a global building solutions company and leading supplier of cement, ready-mixed concrete and aggregates. In the UK, CEMEX also provides asphalt, flooring solutions, concrete block and railway sleepers. CEMEX has been an industry leader in road safety since 2004, actively engaging with it's workforce, fitting new technology to help manage road risk and collaborating with other interested parties Being one of the FORS early members, CEMEX has seen numerous benefits by progressing through  the scheme and  gaining recognition for operational excellence  – says  Carl Milton, Regional Logistics Manager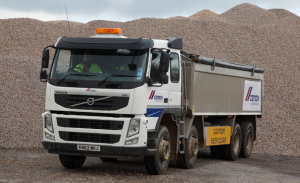 CEMEX works closely with Roadpeace, a national charity for road crash victims which supports those bereaved or injured and works for increased road safety. It's   Chair, Cynthia Barlow advised us that the Fleet Operators Recognition Scheme had formed, and we were keen to become one of the initial members. We passed our bronze assessment first time round. This was encouraging acknowledgement that good company standards and processes were in place.
Once we had attained bronze we really made the most of the benefits on offer with a number of managers attending the free workshops and drivers attending the driver CPC training. Being a national operator, it was encouraging to see the Tyne and Wear scheme launched and we are currently looking to make the most of the Practitioners workshops.
CEMEX has been carrying out compliance audits on their subcontractors for a number of years, based on the HSE Transport Workplace checklist. We have managed to raise standards with the main hauliers, but due to the vast amount of smaller hauliers on the books, find it difficult to resource. We have encouraged our hauliers to become FORS members, the larger companies have achieved at least bronze standard, releasing resources to concentrate on the smaller companies to bring them up to FORS bronze. Approximately 55% of the subcontract hauliers who are in partnership with CEMEX to deliver our products are now FORS members – 2 achieving Gold Status. This amounts to nearly 80% of the volume delivered by sub-contractors.
FORS accreditation is being reviewed in other parts of CEMEX business. Valuemix, a mobile volumetric service providing concrete and screed in Greater Manchester has recently achieved Bronze status.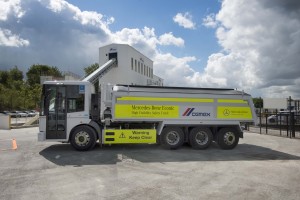 CEMEX has been raising standards to improve both direct and indirect vision for their drivers in order to improve vulnerable road user safety and subsequently achieve and excel the FORS standards.
As part of this, CEMEX worked in partnership with Mercedes Truck to design a low cab entry tipper with 90% improved visibility. CEMEX was the first in the industry to purchase this type of vehicle and consulted heavily with their drivers during the trials to achieve a vehicle which was suitable for the industry and the environment in which we work.
An additional initiative was to retrofit a glass panel (Vision Window) in the passenger side door at the same level as the foot well. Following positive driver feedback on this retrofit, CEMEX purchased 9 new tippers with the same design. The Vision Window , achieves a direct visibility of cyclists and other vulnerable road-users.
CEMEX has worked in partnership with Continental Tyres to improve tyre performance and improve safety for both the driver and other road users by reducing roadside tyre blowouts and breakdowns. This has been through investment in tyre trials and profiling for various applications. CEMEX is also investing in a tyre pressure monitoring system for the driver which is currently being rolled out across the fleet. The results of this initiative highlight only 6 road side blow outs in 2015, a 70% reduction.
Being a FORS Gold accredited operator not only provides a source of great pride but also reassurance that the high standards we strive for allied with our approach to continuous improvement in managing occupational road risk is recognised and extremely worthwhile. As more and more companies achieve this standard, FORS inspires CEMEX to continue the journey of sustaining this performance and building upon our continuous improvement & innovative approach to road safety.