Cemex (UK)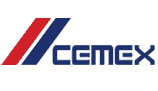 CEMEX is a global building solutions company and leading supplier of cement, ready-mixed concrete and aggregates. In the UK, CEMEX also provides asphalt, flooring solutions, concrete block and railway sleepers.
CEMEX has been an industry leader in road safety since 2004,, actively engaging with it workforce, fitting new technology to help manage road risk and collaborating with other interested parties
Being one of the FORS early members, CEMEX has seen numerous benefits from progressing through the scheme and gaining recognition for operational excellence - says Carl Milton, Regional Logistics Manager
'We came across FORS as a contractual condition... we realised it would benefit us by...'
CEMEX work closely with Roadpeace, a national charity for road crash victims, supporting those bereaved or injured, and working for road safety. It was the Chair, Cynthia Barlow who advised us that the Fleet Operators Recognition Scheme had formed, and we were keen to become one of the initial members.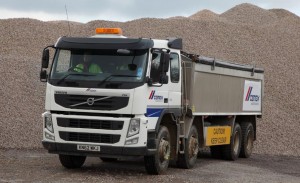 We passed our bronze assessment first time round. This was encouraging acknowledgement that good company standards and processes were in place.
Once we were bronze we really made the most of the benefits on offer with a number of managers attending the free workshops and drivers attending the driver CPC training. Being a national operator, it was encouraging to see the Tyne
and Wear scheme launched and we are currently looking to make the most of the Practitioners workshops.
"Driver – the accident investigation workshop made me look differently into how I can avoid a collision"
CEMEX have been carrying out compliance audits on their subcontractors for a number of years, base on the HSE Transport Workplace checklist. We have managed to raise standards with the main hauliers, but due to the vast amount of smaller hauliers on the books, find it difficult to resource. Now we have encourage out hauliers to become FORS members, the larger companies have achieved at least bronze standard, releasing resources to concentrate on the smaller companies to bring them up to FORS bronze.
The company adopted safe and fuel efficient driver training quite a number of years ago, employing a dedicated team of Driver Development Officers. We therefore don't now see great improvements in MPGs year on year, although when we initially underwent the training, we were seeing MPG improvements of 8-10%
We have, however, between 2012 and 2014, seen a significant reduction in collision damage costs with a reduction of over 20%.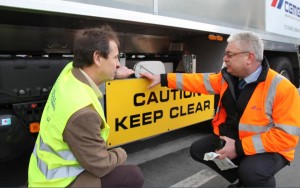 Our London based tipper fleet has had no reportable incidents with cyclists or other vulnerable road users in 2013 and now into 2014, with our last blameworthy incident back in 2010. This has been achieved despite the increase in economic activity within the construction sector, increased road movements and London status as an incident hotspot.
Being recognised at Gold FORS membership nationwide is encouraging and confirmation that our standards are high as we strive for continuous improvement in managing occupational road risk. With more and more companies achieving this standard, FORS inspires CEMEX to continually improve.