CEVA Logistics are contracted by British Gypsum to manage the load securing and end user distribution of their products throughout a large part of the UK from their production plants at East Leake, Kirkby Thore and Sherburn in Elmut.
Julian Money, General Manager and the CEVA team's at all three sites have now been FORS Gold accredited for 2 years and embraced the focus on operational safety and efficiency that FORS accreditation brings with it. Utilising the benefits of FORS accreditation has assisted building a strong understanding for all employees in the risks associated in operating LGV's in both rural and city environments. FORS learning in both VRU's and practitioner courses are a continuing mechanism that supports this culture.
'Initially we received a request to achieve the FORS accreditation from British Gypsum as some of the customers had stated the accreditation as a requirement for vehicles delivering to their sites'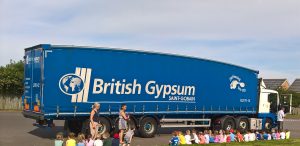 CEVA East Leake were the second CEVA site to achieve bronze accreditation with FORS and a contributor to CEVA achieving multi-site accreditation. Passing the initial Bronze audit was seen as a major milestone for the team and confirmed the foundation of a strong base to work with FORS and encourage a culture that had safety, efficiency and environmental at the forefront of anything we aimed to achieve.
Working with CEVA's central team and the team at FORS has ensured the processes across the three CEVA British Gypsum depots were aligned and up to the required FORS standard. With Bronze accreditation we made the most of the benefits on offer in particular SUD courses, e-learning and practitioner workshops to drive the knowledge within our team.
'Since being initially introduced to FORS and achieving accreditation we have had access to many useful tools and workshops that have been a practical and down to earth method of driving the safe and efficient culture which has led to achieving both Silver and Gold accreditations' Julian Money, CEVA General Manager
FORS workshops in SUD has continued to be rolled out over the last 18 months giving our drivers a good understanding of what cyclists encounter on a daily basis. It was soon established that although many were apprehensive about riding a bicycle they returned not only wiser, and better informed, they had enjoyed it! Alongside the SUD courses CEVA in conjunction with British Gypsum have also been visiting local schools to promote safety in logistics and demonstrate the challenges LGV drivers encounter. Taking a vehicle and trailer gives a reality to the pupils and a real time understanding of the visibility a driver has available.
Our aim going forward into Q4 2017 and Q1 2018 is to increase FORS practitioners to enhance our ability to support each site and the drive to FORS Silver of Sub Contractors supporting the British Gypsum contract.
'Our drivers improved attitude towards vulnerable road users since introducing the FORS workshops has been demonstrated by an increase in positive feedback from members of the public, which is both encouraging and rewarding ' Julian Money – CEVA General Manager
Once all three CEVA British Gypsum sites had achieved bronze, the teams were determined to step up to silver and a program of vehicle improvements and enhanced driver training was put in place using FORS accredited training and suppliers. With FORS Silver achieved in 2014 and successfully re-applied for in 2015, FORS Gold became our next goal to reinforce CEVA and British Gypsums determination to demonstrate freight operator excellence at the highest level, this was achieved Q4 2015 and has been sustained for 2016 into 2017 with continuous improvement and training utilising FORS tools and workshops.
Improvements in MPG have again been gained during 2016 with the use of defensive and economic driver training, this aligned with the managing of telematics results has also resulted in an improvement of telematics results from C in 2015 to B in 2016. The focus on driver behaviour through FORS workshops and Telematics have seen a reduction in incidents per 100,000 and blameworthy RTI's however, with support from the FORS site we are now looking at FORS tools to further enhance our trend analysis on data captured. New vehicle specification is standard to include FORS packs with further development on additional safety systems through FORS accredited suppliers.
| | | | |
| --- | --- | --- | --- |
| | MPG | Incidents per 100,000 Kms | Blameworthy RTI |
| Jan-Dec 2015 | 8.89 | 0.35 | 27 |
| Jan-Dec 2016 | 8.91 | 0.28 | 21 |
| Percentage improvement | 0.2% | 22.9% | 28.6% |
*Annual improvement in MPG and Incidents per 100,000 Kms
Driver health and fitness review – CEVA engage with a third party provider for initial pre-employment screening and all employees are responsible to ensure the company is advised of any changes to health or medication. Every 5 years a medical similar to the pre-employment screening is undertaken by the third party to minimise the risk of incidents as a result of underlying health problems
Strategy for recruiting drivers – CEVA have a program of Warehouse to Wheels as well as apprenticeships to continually drive recruitment, this has been successful in 2017 and has helped to increase driver pool.
Noise assessment – Noise pollution is controlled by restricting operating hours at sites in conjunction with local neighbourhoods. Future improvements on road conditions on and off site have been planned. Delivery point risk assessments are completed which look at alternative routing that minimises local disturbance.
Modal shift and alternative vehicles – Transport strategy at CEVA British Gypsum is reviewing alternate modes of transport along with availability of varying methods of powering vehicles and plant in future procurements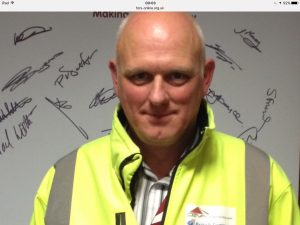 'In order to make continual fleet improvements we will be procuring Euro VI vehicles in the future taking into account DVS and low entry cabs to enhance the drivers direct vision. With the amount of improved FORS toolkits available, reviews will be completed to utilise those tools giving further improvement to analysis. Available alternative fuels will be the focus going forward and there capabilities to carry high payloads and efficiency. Monitoring driver fitness and welfare will continue to be high on the agenda along with retention and recruitment'
Being a FORS Gold operator has enabled us to offer guidance and share our experience and journey with suppliers of sub contract support and hire equipment using the high standard of specification demanded at this level of accreditation. Our goal is to continue improving using FORS Gold as a benchmark.
Please note: All published FORS Gold case studies have been submitted by the accredited company named above and transcribed verbatim.