City of London Performance – Gold Re-accreditation
The City of London Corporation is responsible for and provides local government services for the financial centre of the United Kingdom.
My name is Rob Ellis and as the Corporate Transport Manager I have the overall responsibility for compliance both for the vehicles and drivers I'm responsible for a fleet of around 490 road vehicles and over 1000 items of plant of various sizes, these cover areas including cleansing and waste collection, highways and maintenance and open spaces services.
This number fluctuates according to season, event and cleansing requirements.
The City of London Corporation provides local government services for the City of London. The area governed is at the heart of London and is commonly referred to as the 'square mile'. The City supports and promotes the City of London as a world leader in international finance and business services. It has an unusual population structure. Having our own independent Mayor elected on an annual basis the City prizes itself on the diverse functions it provides and operates within the square mile. There are just 9,000 residents but approx. 350,000 people commute into the City each working day.
The City of London were proud to be in the first group of 8 to be awarded the FORS Gold accreditation for Transport for London Freight Operator Recognition scheme. We were also the first unitary authority to gain this accolade.
The City continues to be involved and promote in the FORS scheme in many ways.
To assist with safety the City of London embarked on a scheme to fit all the vehicles that work in close proximity to those vulnerable people, regardless of location, The Corporate Transport Policy states that all vehicles working in close proximity to vulnerable road users are to be fitted with side guards, audible turn warning indicators, side sensors and reversing cameras meeting and exceeding the FORS requirements
We encourage our contractors to advance through to Gold and attend many of the events laid on by TFL. We are also members of the Construction Logistics Safety CLOCS working groups 1 and 2 and have given case study briefs at several events.
As holders of the Gold status we are striving to go "The Extra Mile" this means we have to ensure we are leading the way. We regularly attend FORS meetings and have on several occasions given presentations on behalf of FORS some of these have been at short notice. One of our new initiatives is to introduce where feasible low entry, urban friendly cabs. These give the drivers far better all-round visibility and have completed programme of retro fitting class 6 mirrors if appropriate or cameras to all vehicles that operate within the square mile
The practitioner workshops allow healthy debates and discussions amongst likeminded professionals
The FORS workshops have reiterated the need for continual development in the transport industry, not just the Drivers for their CPC, but supervisors and managers as well. The practitioner workshops allow healthy debates and discussions they also assist those of us (not me) that are nervous of speaking in public or lack confidence to be able to voice their own opinion. We have also introduced the Safe Urban Driving (SUD) and Work Related Road Risk (WRRR) for all drivers including those requiring the DCPC training.
By using the tools provided we can plan renewal of older more polluting vehicles this has been a priority during the past year, replacing only those needed thereby reducing both the fleet and the emissions produced. Driving assessments for all departments have been introduced for driver and all newly qualified drivers are given extended assessment with an element of coaching showing the correct way to complete a NIL defect report and also safe and fuel efficient driving methods.
It is every body's right to be have the ability to travel along the streets and pavements without the fear of being struck by a vehicle and return home safely.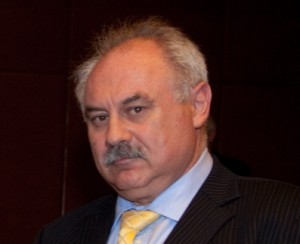 Both on a personal and professional level FORS has brought together many new and some not so new acquaintances and I would like to say friends. The transport sector has for too long been classed with scant regard. FORS has helped show that this is not the case and we are professional and dedicated people who are willing to listen and act accordingly to ensure that both we and future hauliers benefit from our ongoing work. I am often contacted by other members to discuss ideas for better implementation of systems and also how they can move forward to gold. It is also important that all the effort and commitment put in by all members of the team that contributed and were involved achieving this accolade here at the City does not go to waste. We have an opportunity and a responsibility to ensure that all those that use the roads in London are safe but particularly in our case the City of London and this we will continue to do alongside FORS.