CJ Pryor Plant Limited is based in Harlow, Essex and supply Haulage and Earthwork Projects across London and the South East. Samantha Sagaran, Transport Manager, explains how CJ Pryor Plant Ltd has achieved huge reductions in fuel use through FORS.
 We came across FORS as a contractual condition when we commenced work for DHL on our Whitechapel and Finsbury Circus Projects. Although customers were insistent on the FORS Accreditation we were keen to get on board regardless due to the positive impact we knew it would have on the Company and the local Environment. CJ Pryor has been established in Harlow for over 60 years and anything that would help boost the Environment was a huge positive for us all so we were keen to get involved.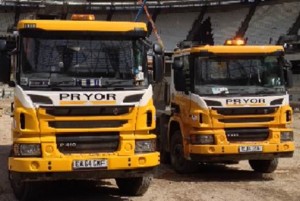 As with anything new we were sceptical of what the first assessment would bring but C J Pryor passed their initial assessment first time round and this showed us we were running efficiently. From here we were encouraged to do various things in a lot more detail and recently established Target Figures have shown things are sustainably improving for the better.
Once we were bronze we really made the most of the benefits on offer, in particular taking on all the advice we had from the FORS assessor -specifically making use of various performance management systems using the tools FORS offer. We also made immediate changes to the way we check driver licences and this is now all done online using DVLA Approved company Advanced Check. The main thing we found is data we analysed we just simply didn't record for future use so this was all put in place so things like accidents we could further train repeat offenders.
'My employer invests in Training to get the best out of me and I enjoy the added incentive of MPG Bonus'
FORS workshops have been a practical way of both improving our knowledge and learning from others as well as in house training. We have implemented numerous changes across the Transport Department and have specifically seen improvements in Driver MPG, C02 Emissions and the Number of Accidents occurred throughout the year across the fleet.
From 2013 – 2014 we have seen a vast improvement in MPG and incident figures as shown below. So far in 2015 MPG is currently sitting at 8.07 so we are on Target to achieve the 8.25 goal we have set for the financial year.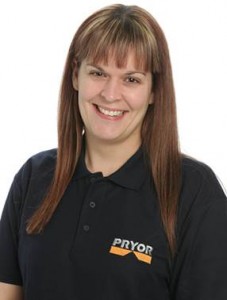 Alongside driver training the installation of on-board vehicle cameras has reduced our accident claims by over half'
| | | |
| --- | --- | --- |
| | MPG  | Incidents per 100,000 kms |
| Jan – Dec 2013 | 7.07 | 1.87 |
| Jan – Dec 2014 | 7.61 | 1.29 |
| Percentage improvement | 7.64% |  31% |
CJ Pryor has this year strove to improve all aspects of the Transport Department, FORS Silver accreditation was great but we are determined to go for Gold. Gold we feel would enhance our reputation across the Transport Industry which we have been striving to improve on over the last 60 years. FORS has been a huge asset to us not only in performance improvement but also in self-assessment and we will continue to better our systems to further enhance the performance of our fleet going forward.