Containerlift is a leading supplier in the UK of transport, onsite handling and shipping solutions of ISO shipping containers. With its head office near Stansted Airport, Containerlift operate a fleet of forty five 44tonne vehicles nationwide and across Europe from eight UK hubs. Containerlift's philosophy is "Service Excellence" and this extends to everyone they engage with, clients, suppliers, colleagues, stakeholders and the wider public.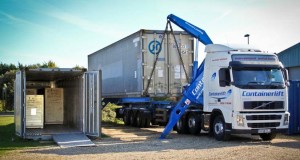 In 2010, and under new management, the strategic decision was taken to invest heavily to improve internal quality, safety and environmentally friendly systems. This decision was driven in part by an increasing demand from new and existing clients controlling high value, high profile and sensitive freight. The decision was also driven by a desire shared by all at Containerlift to be a company that strives to be the best that it can. Research in to the quality standards in the road haulage industry quickly identified the FORS programme and the Bronze through to Gold accreditations as something to set as a strategic company goal.
Containerlift joined the FORS scheme in April 2013 and attained Bronze accreditation in April 2014. Silver accreditation followed quickly in October 2014 and Gold accreditation was achieved May 2015. Work toward the FORS accreditations went in hand with Containerlift gaining its ISO9001 Quality accreditation in April 2014 and OHSAS18001 Health and Safety accreditation which was gained in July 2016. The demands of the FORS programme however demanded a great deal more attention be paid to industry specific standards drilling down into the details associated with fuel efficiency, safety and driver behavior and training. FORS has helped build a framework of clear objectives, regular reporting and, importantly, improvements.
Since joining the FORS programme numerous process and people improvements have been realised. Containerlift's process improvements have included the installation of vehicle safety cameras and vehicle lane departure systems. Blind spot safety systems are also being rolled out across the fleet along with left turn audible warning systems. Detailed real time vehicle telemetry reporting has enabled weak vehicle or driver performance to be identified quickly and addressed.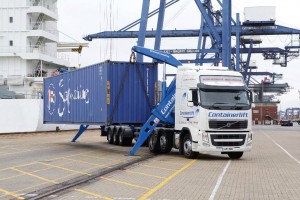 People improvements have been achieved with classroom and in-cab driver training with a focus on each driver's individual 'style' of driving. Training has included the office based operational staff which has also greatly improved internal communication. The FORS online workshops and free training programmes are proving a very useful tool and members of the management team will be participating in the FORS practitioner workshops.
This work has helped significantly reduce Containerlift's insurance claims and damage. Fleet fuel efficiency has improved by almost 1 MPG equating more than 3,000 fewer tonnes of CO2 emitted in to the atmosphere every year. As an added bonus there has also been a good uplift in the general wellbeing and moral of staff, both drivers and non- drivers.
Containerlift Managing Director, Joost Baker explains "We operate large vehicles and crane equipment and many of our deliveries take place in urban, heavily populated and congested areas including inner city London. The FORS scheme has delivered a win-win-win for Containerlift. We are operating more safely, we are having less impact on the environment and in doing so we have reduced costs."
Attaining FORS Gold status was a wonderful achievement for Containerlift. The hard work to continually strive for improvements will not end with this accolade. FORS Gold will be another stepping stone in improvement and Containerlift's ambition to be the best and deliver the best will continue.