CountyClean Environmental Services Ltd is an award winning liquid waste management company based in Eastbourne, East Sussex. They run a fleet of HGV specialist vacuum tankers and super combination tankers as well as a van fleet, offering a diverse range of services including: – hazardous and non-hazardous liquid waste collection, interceptor cleansing, emergency spill response, CCTV and sewage, leachate and grease collections. (We were responsible for detecting and clearing the largest fatberg- (the size of a bus!), in Kingston, London in 2013.
I joined the business at the end of August 2015, as the company compliance manager- SHEQT, looking after the safety, health, environment, quality, training and transport, and more recently have taken on the additional roles of company fuel champion and environmental hero.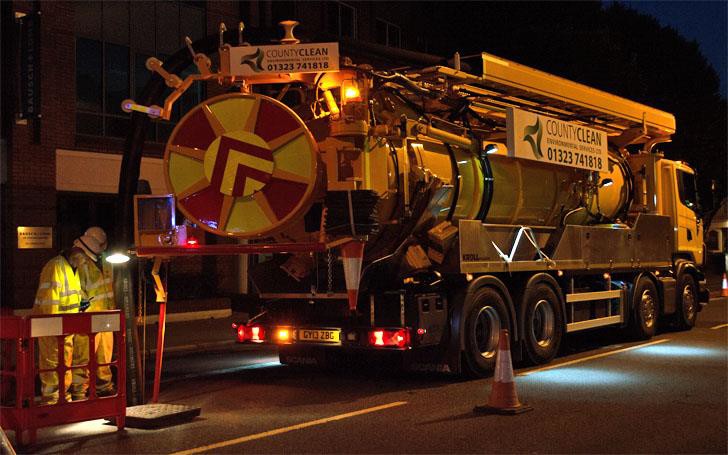 We first became aware of FORS during 2014, when we had received our tender documentation from two large construction companies insisting that we were FORS Bronze as a very minimum, this said, we were very soon on the case, and were able to obtain the highly coveted first step into the FORS world, achieving Bronze in no time at all- we already had everything in place, we were just not recording the information. We are so thrilled and delighted to have just secured our FORS Silver.
CountyClean Environmental were more than ready for their initial audit, evidence was held electronically, as opposed to paper documentation. We now have three folders, one for each stage, and everything is now documented and staff training is all delivered, understood and recorded before it is signed for.
Achieving the individual Bronze, the Silver and now to be at the Gold Standard, this process has been a very worthwhile experience, and the whole team have wanted to be involved with the processes. We have introduced some brand new policies, because I am an HGV driver too, and am able to see issues from both sides – such as falls from vehicles, slips trips and falls, housekeeping, noise, seat belts, emergency call outs and driver training.
New procedures and instruction, now include: – fuelling at petrol stations, using generators, accidents/incidents and near misses, fitness to drive, defect reporting, vehicle checks. We also carry out driver quizzes, auditing and monitoring, toolbox talks and e-learning.
'The services delivered by CountyClean were exceptional. Without their help, clearing Britain's biggest fatberg in Kingston could have taken months to complete – instead of just three weeks'
Gordon Hailwood – Thames Water

Being in the FORS 'Club', so to speak, has given us access to a wealth of information, and the focus and desire to drive the transport operation forward, in regard to being able to better maintain and manage our driving teams which are the forefront of the company, our ambassadors if you like, whilst out there on the road, both illustrating and portraying out the company visions and core values to our customers. Being able to attend the FORS Workshops has been really worthwhile, as it has highlighted areas where we could do better and provides an excellent networking opportunity for everyone, and to be able to share and adopt best practice with the other delegates.
'We understand the responsibility we all have to protect our environment for the future. That's why we ensure all our waste is recycled where possible'
Mike Walker – CountyClean Environmental Services Managing Director and Owner

Since becoming FORS Bronze, we are now more aware of what is required of us, we now hold drivers meetings every 3 months, have driver appraisals, a driver of the month scheme, morning de-briefs, toolbox talks, the Transport for London E-Learning and we brainstorm ideas for our work related road risk scenarios. We receive regular updates from HSE, DVSA, Highways Agency, FTA and am able to cascade these out at our morning de-briefs.
I am absolutely delighted that CountyClean Environmental Services have been awarded firstly with the Bronze, and now with Silver. The Gold is not just the next step, this is huge for us, being awarded FORS Gold is the absolute icing on the cake, it tells the world that we are already vehicle compliant, we want to do everything we can to be safe, and to have safer vehicles. This makes it easier to share the roads responsibly and also for our drivers to be better informed. As a successful specialist liquid waste company, we strive for perfection in all that we do and achieve. We really value our drivers, their ability, skills, knowledge and experience and we know that this works because of the many compliments we get. Our drivers are outstanding and this is what puts us ahead of the rest.