Coyle Haulage are a newly established haulage company based just off the M4 located near Heathrow airport, West London, specialising in plant and machinery transportation for the railway network. The company has gained some reputable contracts, with a firm customer base, underpinned by the FORS scheme which has supported the business in continuously achieving high standards. Manager Shaun Coyle explains his journey with the scheme.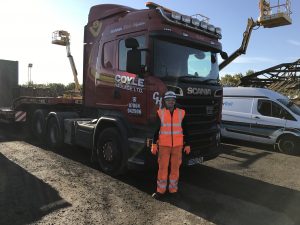 "I first heard about the FORS scheme from another operator who explained the prevalence of becoming accredited. Once we had our first bronze audit and progressed onto silver and utilised all of the training tools FORS has on offer through safe urban driver workshops and e- learning, our overall knowledge of road safety and environmental impact has improved significantly, helping us to not only keep our operation safe and efficient but also giving the company more opportunity to gain further contracts with FORS accreditation.
We gained our bronze accreditation, at the first time of asking, 4 years ago, prompting us to progress to silver accreditation with a view to building on the company's reputation of a quality haulage operator. Last year we were proud to become a FORS gold accredited member which has raised our opportunities to be in the market share for further ongoing contracts in the coming years.
Since joining the scheme 4 years ago I feel that the high standards that FORS sets has helped us to achieve the status of a quality operator. All our trucks are now fitted with the latest 4 way camera systems helping us to improve road safety and make it easier for our drivers to spot vulnerable road users. We have just completed an order for a fourth Euro 6 vehicle which will then complete our fleet to being all Euro 6. This will significantly reduce our fuel usage and Co2 emissions to minimise environmental impact.
I believe the biggest benefit of being part of the FORS scheme is the broad training on offer covering all aspects of fleet management and driving standards, progressing from bronze to silver gave the company a more superior status in the market place and gaining Gold accreditation has shown we have what it takes to be a meet the needs of our suppliers as a reputable and efficient operator.
Whilst work rate remained the same we focused on more localised contracts to reduce fuel usage and maximise profits. Our PCN fines have reduced and we are proud to have had zero incidents.
Fuel usage in litres

Incidents

 (damage only )

PCN fines

Oct 2016 – Sep 2017

288431
0
2

August 2017 -July 2018

128686
0

1

Percentage improvement
55%
–

50%
With the implementation of euro 6 vehicles combined with a more fuel efficient style of driving, we have seen a significant improvement in our fuel usage and a cut in CO2 emissions.
The current Gold standard requirements have also helped us focus on criteria which we have used to build on our existing practices as follows: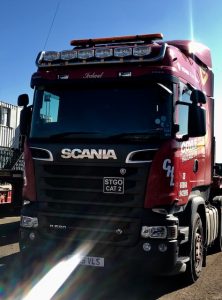 This applies to HGV drivers and provides a way of identifying any drivers with medical conditions which could restrict their ability to drive with remedial action identified to support any that need it. All our drivers complete a health questionnaire at induction and every 12 months thereafter. We also have subscribed to a cycle to work scheme where staff can enjoy the benefits of purchasing good quality bikes at a discounted price that they can pay in low instalments. This is to encourage all staff to cycle to work and improve fitness levels.
We have developed an ongoing strategy to support driver recruitment to ensure that we recruit the right people and identify any internal development opportunities for existing staff.
Using available software we are measuring our noise levels across the business and have developed a risk management tool to identify individual and collective risks which could potentially impact on our business activity.
With the vast majority of our vehicle movements involving travel to and from construction sites there is currently little scope in exploring alternative modes of transport although with another euro 6 vehicle on order due for delivery in September, the company is reducing it emissions year on year. The monitoring of driver fitness and health is ongoing and with the safety of vulnerable road users in mind it is always our priority to ensure their safety is maximised by implementing any further improvements to vehicle safety systems and any further training that is relevant to the operation.
We are proud to be a Gold member of the FORS scheme that continues to support its operators in moving forward and setting higher standards in the road transport industry. Gaining Gold accreditation for a second year-round means we can continue to maintain our status as a high quality operator in a prime position to access long term contracts allowing the business to expand. We will continue to adapt, change and evolve with the advice and recommendations of FORS helping to be top of the game in the industry in which we are in.
We do not engage in social media activity however we are always updating our website with all new ventures the company takes on.