Coyle Haulage are a newly established haulage company based just off the M4 located near Heathrow airport, west London specialising in plant and machinery transportation. The company has gained some reputable contracts with a firm customer base underpinned by the FORS scheme which has supported the business in continuously achieving high standards. Lead driver/supervisor Shaun Coyle explains his journey with the scheme.
I first heard about the FORS scheme from another operator who explained the prevalence of becoming accredited. Once we had our first bronze audit and progressed onto silver utilised all of the training tools FORS has on offer through safe urban driver workshops and e-learning our overall knowledge of road safety and environmental impact has improved significantly helping us to not only keep our operation safe and efficient but also giving the company more opportunity to gain further contracts with FORS accreditation.
We passed our bronze audit first time around 3 years ago, prompting us to progress to silver accreditation to build on the company's reputation as a quality haulage operator.
Since joining the scheme 3 years ago I feel that FORS has supported us as a company in moving forward, we quickly utilised all the training tools on offer helping us to maintain our record as a safe operator with minimal incidents.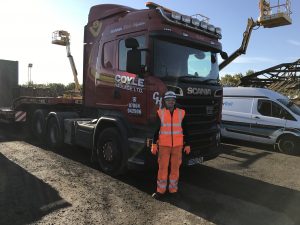 I believe the biggest benefit of being part of the FORS scheme is the broad training on offer covering all aspects of fleet management and driving standards, progressing from bronze to silver gave the company a more superior status in the marketplace and gaining Gold accreditation will further raise this status and will open the door for new contracts.
Whilst our work levels, distance travelled and fleet increasing from 3 to 4 vehicles our mpg has improved 3.4% and our damage incidents have decreased 100% as highlighted in the table below.
MPG

Incidents

 (damage only )

Moving traffic offences
Jan-Dec 2015
5.8
2
0
Jan-Dec 2016
6
0
0
Percentage improvement
3.4%
100%
–
We will be continuing to update the fleet with newer, more fuel efficient euro 6 vehicles as we are already seeing the difference with improved fuel economy with the two euro 6 vehicles we already have. Also all drivers will continue to progress with all FORS related training including e – learning as I feel that has contributed to our now zero incident rate and improved fuel economy.
We are proud to be a member of the FORS scheme that continues to support its operators in moving forward and setting higher standards in the road transport industry. Gaining Gold accreditation means we can take a further step forward to achieving our status as a high-quality operator in a prime position to secure further contracts from reputable companies. Going forward we will ensure that we embrace the benefits of FORS to continue to progress our knowledge and development in improving road safety standards and protecting the environment in the work we do.
Please note: All published FORS Gold case studies have been submitted by the accredited company named above and transcribed verbatim.