D & G Noble Ltd are based in Bedford and run a fleet of 20 vehicles, all with self on/off loading facilities (Hiab & Moffett). Being based in Bedford we are perfectly located to cover most of the country and have easy access London. .
Luke Busbridge, Business Development Manager explains how D & G Noble Ltd have achieved increased performance & reductions in fuel usage through FORS
Following a request from one of our customers in early 2012 we began investigating becoming a FORS Member. After Researching this, we thought our company would benefit from becoming a FORS member and would also help us become more efficient and improve our company Handbook & policy writing.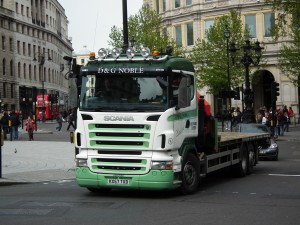 In July 2012 we passed our bronze assessment which was helped a great deal by attending the going for Bronze Course. On this course I gained a great deal of knowledge on how to write the company policies we were missing, as well as a good networking tool.
In achieving the bronze certification we instantly became the main company in our area combining offloading facilities and FORS accreditation. This helped us increase our customer base and therefore our work load. This encouraged us to 'push on' and get the silver accreditation to show that we are always looking to improve our safety & performance standards.
"Progression to gold shows our intent for continual improvement"

The FORS workshops have been a great tool for gaining knowledge and also learning what other policies & improvements other FORS members have found useful. Having access to the FORS Driver training has enabled us to put all of our drivers through the Safe Urban Driving (SUDS) & Greener city driving courses. Already heavily focused on driver & vehicle safety we used FORS associate companies to increase our cycle safety systems. This has led to increased driver confidence & vehicle safety.
Through better Monitoring of driving data, introduction of newer and more fuel efficient vehicles as well as the driver training we have been able to increase our fuel efficiency. This saving has encouraged us to push for further improvements across the fleet.
| | | | |
| --- | --- | --- | --- |
| | Litres of Fuel Used  | CO2 | |
| Dec 2012- Nov 2013 | 699966 | 26433761  | |
| Dec 2013 – Nov 2014 | 643969 | 24319071 | |
| Percentage improvement | 8% | 8% | |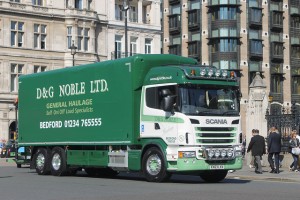 Up to now FORS has been extremely beneficial to us. It has helped us continually improve our safety standards as well as manage our Work related road risk. Achieving Gold would be an amazing step forward for the company in an attempt to keep moving forward in safety and quality
"We did have some standards in place but nothing written down FORS have helped us improve our written policies & safety standards"