Dafcon Haulage Limited is an independent HGV operator based in northwest London. We've been trading since 2007 and operate a modern fleet of tipper trucks and concrete mixers. Our main operations are delivering readymix concrete and providing a waste disposal service for various types of construction materials such as, clean inert, concrete and hardcore.
From our transport team, Shane Mc Gillycuddy explains how Dafcon Haulage Ltd has gained as a FORS accredited company in by implementing a road safety policy, specifically focussing on vulnerable road users.
Dafcon Haulage Ltd was introduced to FORS back in 2012. At that time more and more customers were insisting on FORS membership as a condition of contract and we welcomed the support in helping to set new standards for HGV operators based in London. Also, there was a rise in the number of cycling accidents involving construction vehicles at this time. As Dafcon Haulage Ltd is committed to safety, it was recognised that by becoming a FORS member, our company would benefit by providing a safer working environment for both our drivers and all vulnerable road users.
'When I began working with Dafcon Haulage Ltd in 2013, the company had already achieved it's bronze accreditation on their first FORS assessment. It was my first experience of the scheme and I could see that it was a useful asset for all operators within the transport industry to promote safety throughout the supply chain'.
"Working together to share London's roads safely"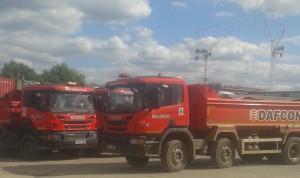 One of the many benefits of FORS is the training service it provides. All our drivers have completed the Safe Urban Driving course which has given them real insight into the risks faced by vulnerable road users. We have also put our drivers through the E-Learning training available on the FORS-online website.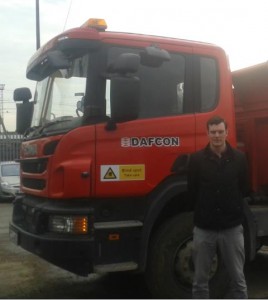 As well as training our drivers on how to minimise risks while driving, we have also invested on new safety equipment for our vehicles to ensure they are as safe as possible while on the public road. All our new vehicles come fitted with a 4 way recordable camera system, Class IV, V and VI mirrors along with Fresnel lenses, side guards, close proximity sensors, audible warning device and blind spot warning signs.
Overall, the main benefit to the company has been a reduction of 7% in insurance premiums as it is a major expense to our operation. Also, our drivers really appreciate this investment in their working environment our company staff turnover has fallen significantly.
"Focusing on Raising Standards"
Becoming an FORS gold accredited company would be a great achievement for Dafcon Haulage Ltd and an acknowledgement to the staff of their efforts in helping achieve this award. Seeing the benefits of the input to date gives us the encouragement to continue down this path of continuous improvement.