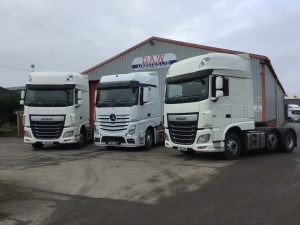 Introduction
DAW Logistics Ltd is based at Full Sutton Industrial Estate in York. The company provide a range of general transport and warehousing services and operate nationally using a range of vehicles including vans and LGV,s including Curtain Siders, Rigids, Flatbeds and Moffett loading and offloading.
David Wright is the founder and Managing Director of the business and our case study explains – "Our journey of improvement.." where our ongoing membership of FORS has led us to achieve significant performance improvements including lower fuel use, cleaner overall emissions and fewer incidents and enforcements.
How did you hear about FORS, what prompted the company to join and how long have you been a member?
We learned about the FORS standard in early 2015 whilst making deliveries to construction sites in London and considered the adoption of an industry standard was a good idea and this prompted the company to apply and then  become a Bronze member in July 2015.
Our experience of the initial FORS Bronze audit?
At the first audit DAW Logistics Ltd were put through their paces and after promptly resolving 2 minor non conformances and accepting one observation the company were awarded the Bronze certificate. The company benefitted greatly from this exercise as the auditor was able to show how we benchmarked against other professional operators and gave us some good ideas to adopt to improve our own operations. One of the key benefits we identified of working to the Bronze standard was the structure we were able to follow to meet our regulatory obligations and this helped general streamlining of our fleet and driver management.
Our reason for developing our membership status.
 Here a couple of quotes…
"As a transport planner when we are approached to carry out work all we have to do is quote our FORS membership and the questions about suitability and credentials and experience stop and we can get on with the work" – Transport Planner

"Being a member of FORS has encouraged the company to invest in a new fleet of vehicles to help improve operational standards and customer service. The new vehicles are much more comfortable and better equipped for my own and other road user safety" – Driver.
What improvements have we made since joining FORS?
Performance data – The following table gives a snap shot of some of the tangible KPI improvements the company have made since joining FORS.
| | | | | | | | |
| --- | --- | --- | --- | --- | --- | --- | --- |
| | Km/l | Incidents per 100,000 Kms | CO2 | NOx | PM10 | Number of PCNs | Proportion of fleet that uses alternative fuels |
| Year 2018/19 | 9.72 | 2 | 413 | 801 | 12.78 | 0 | 0% |
| Year 2019/20 | 11.38 | 5 | 302 | 671 | 10.8 | 0 | 0% |
| Percentage improvement | +17% | -60%* | +27% | +16% | +15% | 0% | 0% |
Started recording near misses and minor incidents in 2020.
Driver health and fitness review – DAW Logistics Ltd has engaged an occupational health nurse to visit the company and during these surveillance visits core health checks are carried out as well as providing personalised confidential advice to ensure fitness levels with respect to driving or other duties are maintained or improved.
Recruitment of drivers – DAW Logistics Ltd' pool of drivers is stable and some drivers have been in post for 15 years or more. When van drivers are recruited, after a satisfactory probationary period, drivers are offered an opportunity to broaden their skills and are funded to become licensed as HGV drivers. Other staff are encouraged to attend training as fork truck drivers and to operate scissor lifts as part of their skills portfolio. We believe these initiatives have helped retain our steady pool of people resources. Drivers also benefit from our FORS management and compliance structures where regular e learning sessions and tool box talks add to their knowledge base.
Noise assessment – DAW Logistics Ltd is based on an industrial estate where a wide range of sources of noise pollution exists. A noise survey at our premises indicates we have a very small impact on environmental noise and we operate quiet, high specification modern vehicles to Euro 6 standards. Any noisy tasks we carry out are subject to risk assessment and drivers that might be subject to personal noise exposure are required to use requisite hearing protection as part of a wider group of safety control measures.
Modal shift and alternative vehicles – DAW Logistics Ltd are constantly monitoring if new technologies have a part to play in their business development and for example have recently invested in new telematics packages on vehicles to make best use of information gathered to steer efficiencies. The company have considered the merit of working with city hubs where smaller vehicles are used to ferry small deliveries from an out of town hub to reduce impact on our towns and villages. A considerable proportion of the goods carried are national rather than local and as yet the company do not see there is an infrastructure to make use of vehicles using alternative fuels.
Our plans for the future?
A recent positive initiative in the company has been to offer loading/offloading with "Moffett" vehicle mounted fork trucks. We plan to widen our fleet to provide this service as this has clear and tangible safety and efficiency benefits. All of our vehicles have permits to comply with Direct Vision Standards and at replacement we aim to procure the fleet with safety equipment with higher safety ratings. Our company has widened its' general transport and distribution offer to include warehousing and also to including compliance to HACCP standards and we anticipate this will become an increasing part of our development.
We positively promote FORS…
DAW Logistics Ltd positively promotes our membership of FORS by displaying the FORS logo on all of our vehicles. We display our membership certificate on our notice boards and on our web site and the FORS logo appears as a footer on our letterheads, e mails, with compliments slips and invoices. We have recently given guidance to a smaller local transport operator on the creation of their manual and procedures to comply with the FORS standard and their drivers have attended some of our drivers FORS tool box talks. We acknowledge our FORS membership when we advertise along with our ISO9001 accreditation and the various procedures we follow to comply with the FORS standard assist our compliance with this quality management standard.
What does FORS Gold accreditation mean for our business?
Compliance with the FORS standard has helped us run our business in a structured manner and this has led to a number of efficiencies that are beneficial to our staff and to our customers. By being recognised as a provider operating to the GOLD standard will demonstrate and evidence that we have and will continuously improve and give confidence to anyone who interacts with our company that they will be dealing with a professional, reliable, consistent, efficient well run company.
For further information about DAW Logistics Ltd, our organisation and social media contact details are:
Section 11 – FORS members' feedback questionnaire
Please could you take the time to complete a short questionnaire and provide feedback about FORS. Please note all answers you provide will be strictly confidential and will only be used by FORS to help us to improve the scheme. To access the survey, please click the link here: https://www.snapsurveys.com/wh/s.asp?k=153908006313