D & G Noble Ltd are a road transport company based in Bedford currently operating a fleet of 30 vehicles. We specialise in self on/off loading vehicles including dry powder tankers, Hiabs and Moffett equipped trucks. Being based in Bedford we are ideally located to cover most of the country and have easy access to London.
We have been operators with FORS for 5 years & held the gold accreditation for 3 years. Over this time, we have seen benefits in reduced CO2 emissions, lowered NOx/Particulate Matter emissions, an improved road safety record as well as decreased transport related fines and charges.
When we passed the first bronze accreditation in 2012 the achievement was the catalyst that enabled us to take a fresh look at our safe systems of work including driver training and retraining as well as new vehicle specification.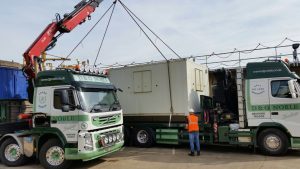 One of the big benefits we found was the driver training available to us, Greener City, Safe Urban Driving, Work Related Road Risk, TRIP & the E-Learning modules have all been very interesting and helpful to us. We have also found the FORS practitioner courses very useful. We now have one member of staff fully trained to FORS practitioner status with 2 further staff members well on the way!
'A key benefit is amount of driver training toolkits available to us through FORS. The driver training has clearly shown improvements to the company' . Luke Busbridge
At our Bonze Audit we were informed that we are already at a good level and would achieve Silver and Gold accreditation with some additional work. At that time, within the industry, there didn't appear to be any other self-offloading haulier with these accreditations so the chance to show that we could operate at this level of good practice was a brilliant incentive. Once we had achieved Gold status it also created a huge benefit for our customers as they are now able to offer deliveries with a FORS Gold accredited company.

Since our introduction to FORS in 2012 we have seen massive improvements in MPG & a reduction in Incidents per 100,000kms. We attribute the majority of this to the driver training offered by FORS
| | | |
| --- | --- | --- |
| | MPG | Incidents per 100,000 Kms |
| July 2011 – July 2012 | 8.8mpg | 0.45 |
| July 2016 -July 2017 | 10.24mpg | 0.21 |
| Percentage improvement | 16.3% | 53% |
* improvement in MPG and Incidents per 100,000 Kms
Driver health and fitness review – All drivers have a regular & comprehensive health checklist. Working closely with our drivers we are able to monitor any significant changes in the driver's health & wellbeing. We have issued drivers with exercises that can be carried out during the day & are also in negotiations with the local gym to offer discounted rates to all the D&G Noble employees.
Strategy for recruiting drivers – We keep up to date with industry led initiatives for recruiting new drivers as well as helping drivers through their class 2 & class 1 licence. We have also trained one of our drivers to become an in-vehicle assessor to carry out both the initial new driver assessment alongside offering support and advice to existing drivers
Noise assessment – Vehicles are fitted with White noise reversing alarms, anti-idling equipment & automatic engine speed control (when operating vehicle loader) to help reduce the noise produced by our operation.
Modal shift and alternative vehicles – Due to the nature of our work the delivery point tends to be very vehicle specific with the type of load/offload required so we are unable to use other options for delivery. Our latest vehicle purchases have included front air suspension helping reduce the ride height in urban areas giving the driver more direct vision with vulnerable road users.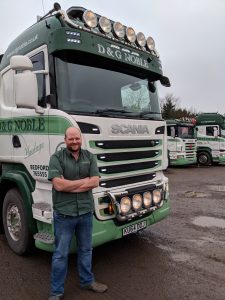 At D&G Noble we intend to carry on specifying the latest in vehicle technology and safety. Replacing older vehicles for new Euro VI powered trucks and keeping up to date with all the industry initiatives will help us to reduce fuel wastage, incidents and accidents and maintain staff confidence in the business. We will continue to maximise the driver training offered by Fleet Source & FORS.
Maintaining the Gold accreditation will show our commitment to keeping up to date with the latest in safety and efficiency and will continue to give our customers the confidence that they are dealing with a Gold standard haulier
D&G Noble: Facebook
D&G Noble: Instagram
Please note: All published FORS Gold case studies have been submitted by the accredited company named above and transcribed verbatim