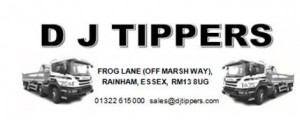 My name is Danny Andrews of DJ Tippers & Grab Hire Ltd based in Swanley supplying aggregate, waste and haulage services to London and the South East of England. Danny, Managing Director explains how DJ Tippers & Grab Hire Ltd has achieved compliance and utilised the services offered by FORS.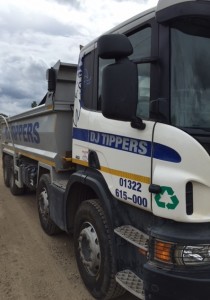 At the end of 2014 we were at a junction of business viability, stability and compliance. After successfully rectifying the issues our company faced we were introduced to FORS, this was the junction that I look back on favourably as without this introduction we would not be in the position we are today. FORS gave us the tools and support to reach compliance, introduced us to valuable associates who guided us to compliance and identified the correct route to success.
We knew that the initial leap to Bronze would be a huge commitment, after speaking to other transport companies we knew we had to commit with a no expense spared approach. The process after the initial registration was a seamless affair with immediate communication from both FORS and the pre-arranged auditor we knew exactly what was expected of us on the day. We planned tirelessly to prepare for the audit, vehicle files, driver files and evidence to support the hard work we committed to reach this platform. What we didn't expect was to get such positive feedback from the auditor and such a glowing report.
On the day we were excited at the chance of reaching Bronze that before we had official confirmation we knew where we wanted to go. We had to start promoting FORS by way of supplier communications, social media and discussions with our staff. We looked into Silver and saw the support and benefits that FORS offered with E-Learning, Driver CPC and Fleet Performance we got to work. We had systems in place to monitor economy, driver performance and look after our drivers development but found the systems FORS offered were less ambiguous and gave us effective ways to monitor our staff and Fleet.
'FORS Gave us the tools and support to reach compliance '
In order to ensure our drivers knew why we concentrating so hard on FORS, protecting Vulnerable Road Users and their development we enrolled all our drivers on the Safe Urban Driving (SUD) safety programme in London. I will be honest, it was initially met with contempt but after the training the drivers were all on board and committed. We have utilised the information available and have now introduced a series of Tool Box Talks to educate and develop our staff on Fuel Economy, Daily Checks, Driving Safely and much more. We have now seen a marked improvement on maintenance costs, fuel economy and general attitude of our staff and customers. This could be down to our change of tack in our approach and our investment in the staff but this has clearly been induced by a clear route provided by FORS. To really highlight how we have progressed back in August one of our drivers was involved in an accident with a pedestrian, the driver knew exactly what to do at the scene and thanks to the technology installed onto our fleet we were able to support the police and provide all the necessary information to the insurance with ease.
'The driver knew exactly what to do at the scene '
This has been a recent journey for us, therefore we are without a baseline to operate from but we have noticed a marked improvement in our monthly fuel figures, periodic maintenance and the general appearance of both our fleet and our drivers. The systems in place allow us spot a spike in fuel usage, maintenance costs and drop in vehicle productivity very quickly allowing us to react when it matters and not realising too late to do anything about it. We are looking forward to analysing the data from 2016 onwards to see exactly how much we have progressed and how our impact on the environment has reduced.
As an independent company working in this heavily regulated industry we now have a path to follow and improve upon. We have quickly been able to capitalise on our strengths and rectify our weaknesses; gaining FORS Gold will allow us to continue demonstrating our commitment to compliance, driver training, protecting the environment and develop our image.