Economic Skips Limited Skip are based in Deptford South East London and are a waste management operation. Chris Guinnelly, Fleet Manager, explains how Economic Skips have changed all aspects of how the business operated in relation to vulnerable road user safety, road safety, driver awareness, dealing with PCN's and checking fuel usage through joining FORS.
We came across FORS at the when tendering for several projects in 2013. We realised it would help us to achieve best practice and benefit us by utilising the classroom and online training offered to help improve road safety for vulnerable road users.
Economic Skips Limited passed their initial audit first time round as we introduced a completely new set of policies and procedures to get the maximum benefit from our operation.
Once we were Bronze accredited we focused on attaining the Silver accreditation and shortly after that the coveted Gold status to show our commitment to the scheme and the company has two FORS practitioner among its ranks.
T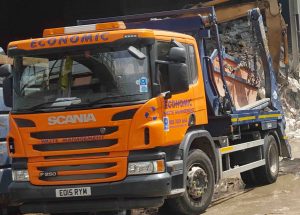 he safety of vulnerable road users is of the utmost importance – Chris Guinnelly Fleet Manager
FORS has been beneficial in a wide variety of ways to us especially in the promotion of road safety and all our drivers have benefited from attending the Safe Urban Driving courses and the eLearning modules concentrating heavily on road safety and the safety of vulnerable road users.
Once we were Bronze we did not hang around, we wanted to show everyone (customers and the public) that we are a very progressive company and our ultimate goal was the FORS Gold accreditation demonstrating our dedication to the FORS scheme.
Performance data – The company is continually seeing improvements in fuel economy from efficient work planning, driver training and fuel monitoring.
| | | | |
| --- | --- | --- | --- |
| | MPG | Incidents per 100,000 Kms | Number of PCNs |
| Jan-Dec 2015 | 6.71 | 18 | 13 |
| Jan-Dec 2016 | 7.00 | 17 | 14 |
| Percentage improvement | 4.3% | 5.5% | -7.6% |
*Annual improvement in MPG and Incidents per 100,000 Kms
Driver health and fitness review – The company have been using driver medical declaration forms for the several years, if drivers are involved in any incidents eyesight checks are arranged to ensure it was not a contributing factor. Drivers are encouraged to inform management of any issues that could affect their driving and assisted in gaining the appropriate help.
Strategy for recruiting drivers – Due to the ongoing driver shortage the company recently put an office member of staff through their HGV test by providing paid time off for lessons and the driving test.
Noise assessment – The company working hours are restricted to Monday to Friday 7am to 5pm and Saturday 7am to 1pm. Therefore, we do not have vehicles or machinery in the depot operating during unsociable hours. The company introduced their enhanced noise policy to all drivers as per the latest FORS Gold standard.
Modal shift and alternative vehicles – We are always looking at ways to consolidate loads and wherever possible a refuse cart is used to collect waste from sites. The refuse cart is the equivalent of 7 standard skip lorries. We have contacted our vehicle suppliers to make them aware all future purchases of vehicles must take into account alternative fuels like gas or electric. If they cannot provide vehicles of this nature then any vehicle supplied must have a lower emission output to reduce our carbon footprint.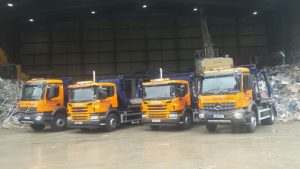 Our plans for the future are to reduce vehicle movements, improve road safety through increased driver awareness training and encourage more people to consider driving careers.
Retaining Gold for a third year confirms our commitments to road safety, the haulage and waste management industry, our customers, vulnerable road users and the FORS scheme.
Economic Skips: Website 
Please note: All published FORS Gold case studies have been submitted by the accredited company named above and transcribed verbatim.