ELB Partners Ltd are based in Wimbledon SW19 and are part of the Pallet Track delivery network service London postcodes. Mark Norman (Transport Manager) explains how ELB Partners have achieved huge reductions in fuel use through FORS.
ELB joined FORS as it we share the similar values such as reducing the environmental impact on Londoners by reducing fuel emissions and keeping Londoners safe. We have been members of FORS for some time now, and our membership has opened up avenues for new business in showing that we are taking all available precautions for the safety of Londoners.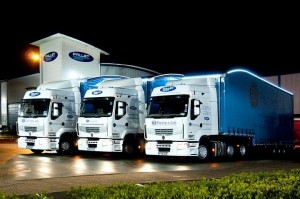 ELB Partners have held bronze membership for 4 years, and are very proud to have achieved our Silver grading in January 2014. Having successfully  renewed our bronze membership, this showed us the benefits to our customers by establishing that we have achieved the high standards demanded from a professional Company operating in London. From here we were encouraged to maintain a fleet of new vehicles fitted with the most up to date technology.
Once we were bronze we really made the most of the benefits on offer, in particular the driver CPC training on Safe Urban driving and the excellent practitioner workshops. Both of these provided invaluable information for both drivers and management alike. There was something on offer for all, be it a driver or member of the management team.
"New technology" Has already highlighted the drivers who need to improve their skills.
'FORS workshops have been a practical way of both improving our knowledge and learning from others. We have installed new technology such as Tomtom telematics system to measure driver behaviour and to improve our MPG. This is in its infancy and we know that we will see improvements in driver's skills and in fuel returns. The new technology has already identified the drivers who need to improve their driving skills, and allows us to target our training accordingly!
Training drivers has paid dividends in better fuel returns. An improvement in MPG is already noticeable across the fleet ranging from 3.5 to 44 tonnes

| | |
| --- | --- |
| | MPG |
| Dec – Nov 2013 | 10.85 |
| Dec  – Nov 2014 | 12.97 |
| Percentage improvement | 16.34% |
"Training" Improvement in MPG noticeable

Sum up the benefits gained from FORS and the goals you want to achieve going forward.  Achieving Gold means that we can hold our heads high trying to make London a safer place. It shows that we are prepared to invest in London making it a safer and happier place to live and work.