EPD Tipper Hire Ltd is a Purfleet based Tipper and Grab hire company, We   have been in business for 17 years now, the company started by three friends who worked together as tipper drivers the owner and directors are Chris Davies, John Kehoe and Patrick Kehoe.  We are continually building upon our reputation for delivering high quality services to the building industry.  
We came across FORS while talking to the transport manager of Erith Haulage. We were keen to learn more about the scheme so sent off for some more information, we felt this was a great opportunity to help with the safety of the vulnerable roadusers and further our fleet operations.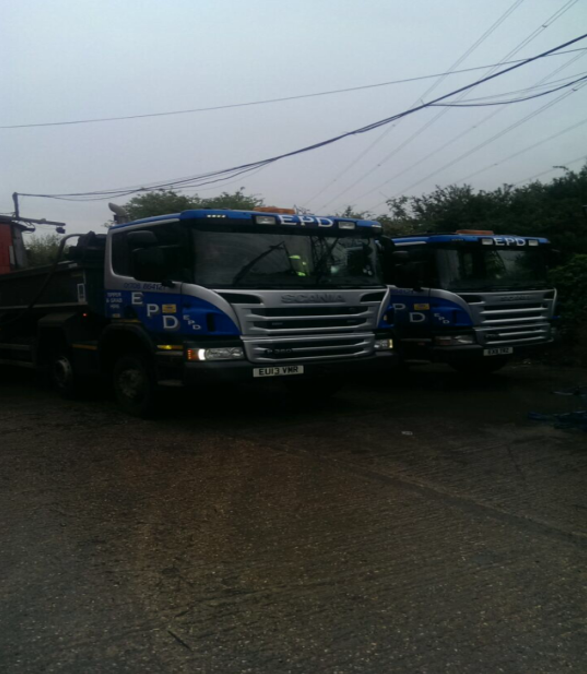 We already had all of the management systems requiried to achieve the Bronze level, so we passed first time with a observation for our complaints procedure. We took all the advice from the auditor allowed us to make adjustments and further improve our own systems.
Once we were bronze we took full advantage of all the training available all drivers attended the Safe urban driving course and the site safety course. I also personally attended the FORs practitioner workshops to keep up to date and compliant.  We Invested heavily in vehicle safety systems, which has proved worthwhile from the start.
We have improved and furthered driver knowledge through the training resources provided by FORS
FORS Workshops have been beneficial to myself and staff they have all undertaken the E Learning course. Also, the toolbox talks and online tool kits have all been utilised since gaining our Silver accreditation.
 "Since being involved with FORS, EPD Tipper Hire Ltd have maintained our commitment to helping keep Vulnerable road users safe" 
We have improved our MPG across the fleet by 18% since our baseline year. Our MPG was 6.08 MPG and in the past 12 months our MPG was 7.25 on average. We have also reduced our accidents by 5% in the past 12 months and reduced our PCN's by 21%.
 

 

MPG
Incidents
April 2013 – March 2014
6.08
20
April 2016 – March 2017
7.25
19
Percentage improvement
18%
5%
Annual improvement in MPG and Incidents
Gaining FORS accreditation shows how dedicated we are as a company to improving road safety and the safety of all vulnerable road users in London and nationally. We will continuously use what FORS has taught us to help reduce our carbon footprint and make the roads safer for everyone that uses them.
Achieving Gold has shown our customers that as a company we will always strive to exceed their expectations and requirements. Achieving Gold will not be the end of our journey. The FORS accreditation will be used always as we move forward and make continuous improvements.
 Please note: All published FORS Gold case studies have been submitted by the accredited company named above and transcribed verbatim